'Never put these items in your dryer if you don't want to damage them – and it,' warn laundry experts
Some can even cause house fires. These six things should be air dried every time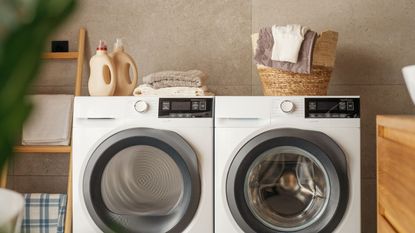 (Image credit: Getty Images)
Tumble dryers are some of the most helpful of household appliances, but if employed incorrectly, these ultra-useful machines could be doing more harm than good.
Between trying to understand tumble dryer settings and tumble dryer temperature guides, it can be tempting to just throw anything wet in and hope for the best, but this could be damaging both your belongings and the dryer itself, laundry experts suggest.
Here are the six things they warn should not be put in a tumble dryer.
What not to put in a tumble dryer
'While dryers are a convenient and efficient way to dry clothes, it's essential to know what items should not be placed in them,' begins professional cleaner Marv, owner of Marvcleaning (opens in new tab). 'Improper use of dryers can lead to damage to the dryer itself and even fires. Following these guidelines can help ensure the longevity of your dryer and keep your home safe.'
1. Anything made with plastic or rubber
'Dryers are one of the top sources of house fires. In order to make sure your dryer doesn't become a problem for you (either breaking down or starting a blaze), I recommend you do not put anything made of plastic or rubber in your dryer, as this can clog the vent and then lead to a fire or mechanical failure,' warns Tim Jankowski, President of Aladdin's Cleaning & Restoration (opens in new tab).
'Additionally, items such as rubber-backed bath mats, shower curtains, and plastic clothing like raincoats should also be avoided,' adds Marv, owner of Marvcleaning. 'We advise our customers to double-check the labels' laundry symbols before putting any clothes in the dryer to ensure they are safe to use.'
Some bathroom rugs and kitchen rugs are machine washable, for example, but are not suitable for a tumble dryer. Learning how to distinguish can help prevent damage.
2. Clothes you've had dry-cleaned
'It's important to note that garments that have been chemically treated should not be put in the dryer,' instructs Marv, owner of Marvcleaning. 'These can release toxic fumes and cause damage to the dryer. This includes clothing that has been dry-cleaned or treated with fabric softeners, stain removers, or other chemicals.'
3. Stuffed animals
Washing stuffed animals? Air dry them afterwards.
'Items with foam padding or stuffing should not be put in the dryer. Puffy jackets, sleeping bags, and even stuffed animals can melt and cause damage to the dryer,' Marv explains. 'We advise our customers to air dry these items or place them in a laundry bag before putting them in the dryer.'
The leading cause of fires in tumble dryers is a build-up of lint and fluff from stuffed items and clothing. Avoiding drying stuffed toys and knowing how to clean out a dryer vent correctly can save you a lot of stress in the long run.
4. Greasy or oily items
'Items that are heavily soiled with oil or grease should not be put in the dryer. These can cause damage to the dryer's heating element and even start a fire,' Marv cautions. This could be rags you have used while cleaning, especially from cleaning an oven or in a garage. 'We recommend our customers to wash these items separately with a detergent that is specifically designed to remove oil and grease.'
5. Garments made from some natural fibers
'It's also important to note that certain fabrics, such as wool, silk, and cashmere, should not be put in the dryer, as they can shrink and become damaged,' Marv reminds. 'These should be laid flat to dry or air-dried with a clothesline. We recommend our customers follow the care label instructions for these delicate fabrics.'
If you are looking for ways to dry clothes quickly, then consider investing in a heated clothes airer or dehumidifier to speed up air drying and prevent damp clothes from causing mold indoors.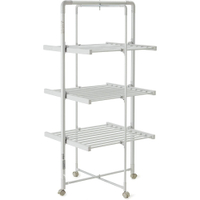 (opens in new tab)
Easylife XL Heated Arier - $229.99 at Amazon (opens in new tab)
A three-tier heated clothes rack with 30 heated aluminum rails so you can do a large family wash and air-dry without clothes smelling damp, plus it's much kinder to your clothes than a machine dryer.
6. Anything with metal embellishments
'Items with metal accents or embellishments should not be put in the dryer,' advises Marv, owner of Marvcleaning. 'Items such as bras with underwire, clothing or decor with metal buttons or zippers, and even items with metal snaps or studs can damage the dryer or even start a fire.
'We recommend our customers to remove any metal accents or embellishments before putting their clothes in the dryer.'
Consider adding a basket like this one at Target (opens in new tab) to your laundry room to put any removable elements into before washing and tumble drying so they are not misplaced and are easy to find when folding laundry afterwards.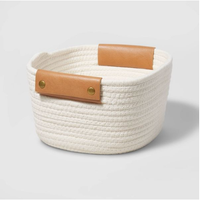 (opens in new tab)
11" Small Coiled Rope Basket - $8 at Target (opens in new tab)
This decorative basket is made up of coils of white rope accented with tan leather handles for a simple yet chic look. At 5 inches by 10 inches by 11 inches, the basket is a perfect size for holding smaller items.
What clothes can't go in a tumble dryer?
While the majority of clothes are safe for tumble drying, any garment with a do-not-tumble dry symbol on the label (the one that looks like a circle inside of a square with a cross through it) should be left to air dry instead. Most commonly, these symbols are found on clothing made from wool, pure cotton, linen, silk, and hemp.
What can ruin a dryer?
One of the main causes of a ruined dryer is overcrowding your dryer cycles. When packed with too many things, a dryer not only does not work efficiently leaving some clothes wet but also causes unnecessary strain on your machine's barrel leading to a shorter life span overall.
Chiana is a junior writer for Homes & Gardens having joined Future plc as a new graduate in 2022 after achieving a 1st class degree in Literature at university. She first became interested in design as a child after spending her summers helping her parents redecorate her childhood home. As a long-time reader of Future's homes titles, Chiana is constantly finding new inspiration at work as she focuses on emerging trends, how-to's, and news pieces.