Shower room design mistakes – 6 problems that our bathroom experts see all too often
Avoid these glaring design mistakes when planning your shower room, and you'll avoid some frustrating consequences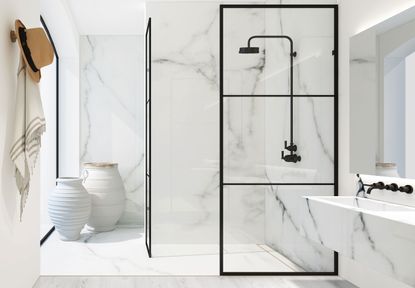 (Image credit: Future)
A shower room can – and should – be a sanctuary. But that won't be the case if yoga moves are required to maneuver into your enclosure, you live in fear of slipping on a wet floor, or you stand under your 'rain shower', only to be met with a pathetic dribble of water. Unfortunately, it's all too easy to make shower room design mistakes that lead to the above if you don't heed the advice of bathroom designers and experts.
So when you're putting those shower room ideas on paper, it's prudent to think beyond the statement tiles and fancy brass fittings. A good bathroom layout could be the difference between shower room success and failure, while not taking into account your water pressure, or skimping on quality, could also land you in design hot water, as our experts explain...
1. Shower door positioning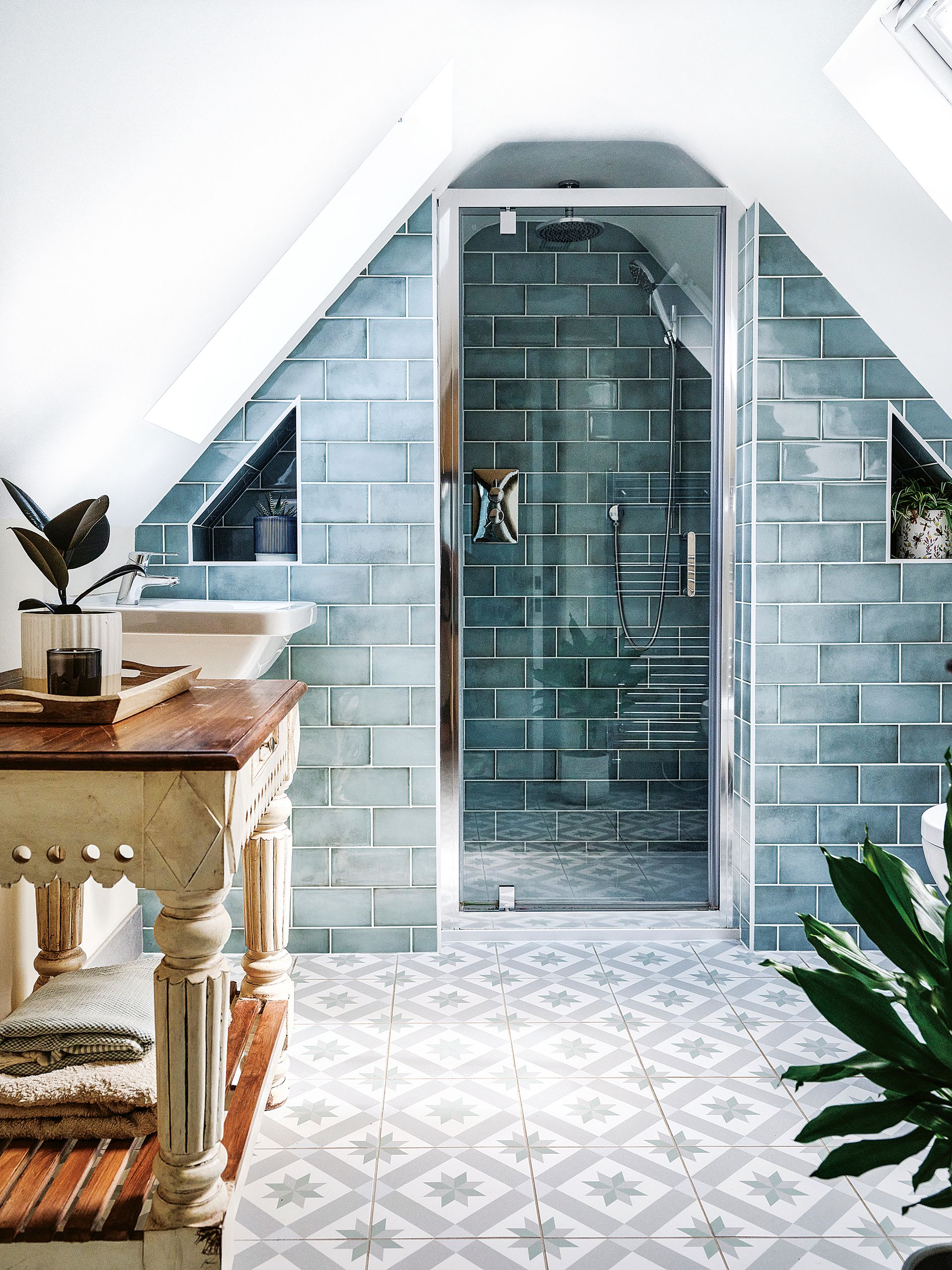 Ever wrestled to get past the cubicle door into your shower? You are not alone. 'Shower cubicle configuration is an area that needs careful attention when you are designing a bathroom. The positioning and opening of the shower door can have a big impact on the overall bathroom space,' says Paul Bailey, product management leader at bathroom manufacturer Grohe (opens in new tab). 'It's best to ensure the shower door can open freely without impacting other key areas of the room such as the vanity or toilet area.'
In the US, the International Residential Building code (opens in new tab) states that any hinged shower door should open outward into the bathroom, with unobstructed clearance of at least 22 inches in width. In other words, the door opening should be at least 22 inches wide with nothing in its way. This is so, should anyone slip or fall in the shower, it remains easy to access them while inside the cubicle.
You will, however, be able to opt for a sliding door, and can specify whether the door opens on the left or right-hand side.
2. Poor flooring choices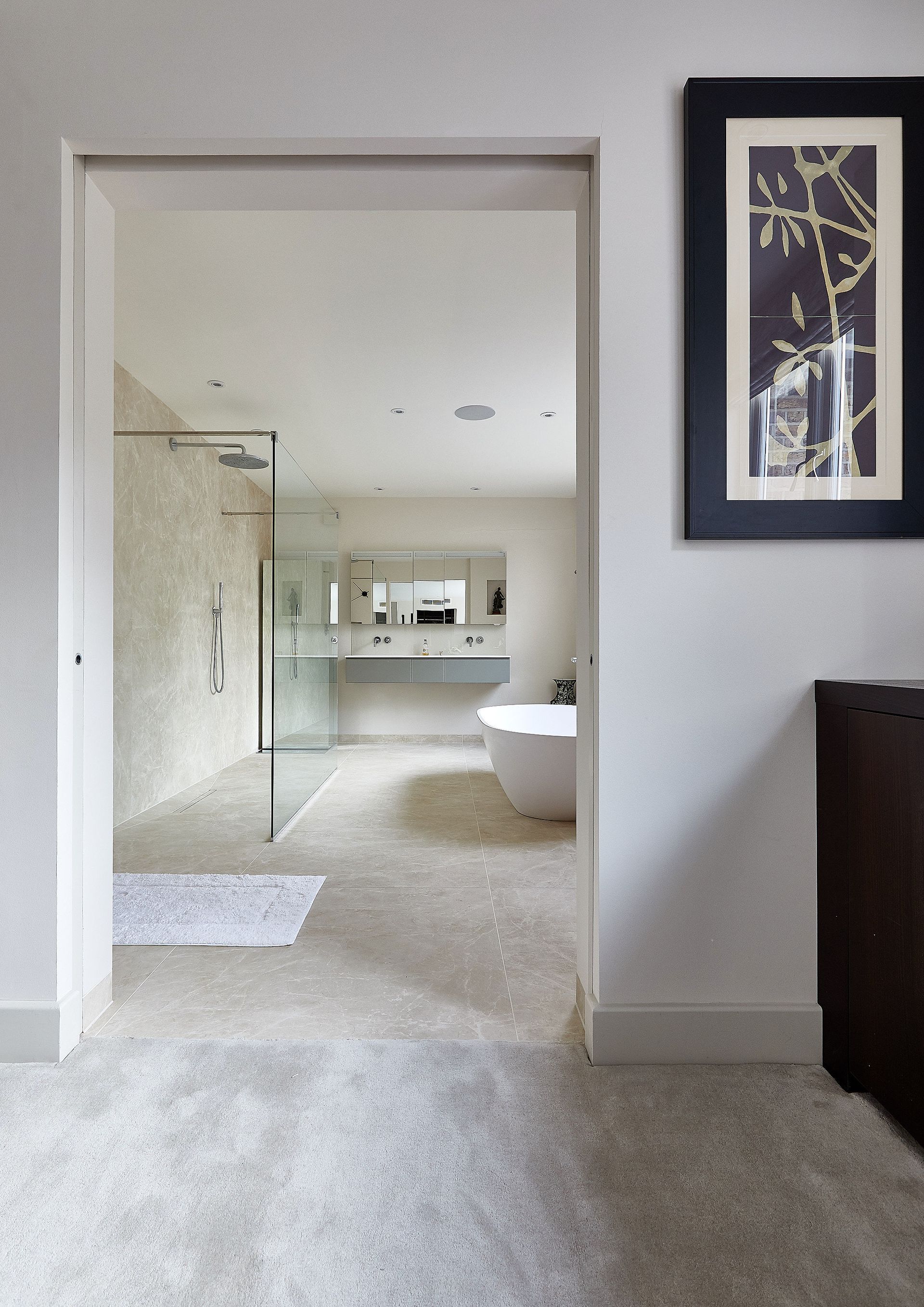 Selecting the wrong material for your bathroom surfaces can be a costly mistake,' warns Jo Oliver-Singh, director at The Stone & Ceramic Warehouse (opens in new tab). 'The single most important thing to consider when choosing a bathroom tile is 'is the tile fit for purpose?'
'Tiles have various finishes and different levels of anti-slip which will all affect their suitability. When looking at tiles for a bathroom floor, we would recommend one with a slightly textured surface, and if it is a shower enclosure or wet room even more texture again. This will ensure that they are anti-slip and safe.'
'A highly polished porcelain tile would be unsuitable for a bathroom floor, as they are very slippery when wet,' says Jo. But that's not to say you should rule out porcelain altogether. 'Many of our porcelain slabs come in different finishes, meaning you could have a polished marble effect tile on bathroom walls and a more textured marble effect tile on the floor, for an anti-slip flooring solution.'
In fact, porcelain is a great non-slip bathroom flooring choice if you get the level of texture right. 'Good quality porcelain tiles are perfect for use in wet rooms and walk-in showers,' says Jo. 'Firstly, they are impervious to water, making them an ideal solution for everyday use. They also won't be damaged by detergents or any of the other chemicals we frequently expose our shower surfaces to.'
3. Badly positioned shower heads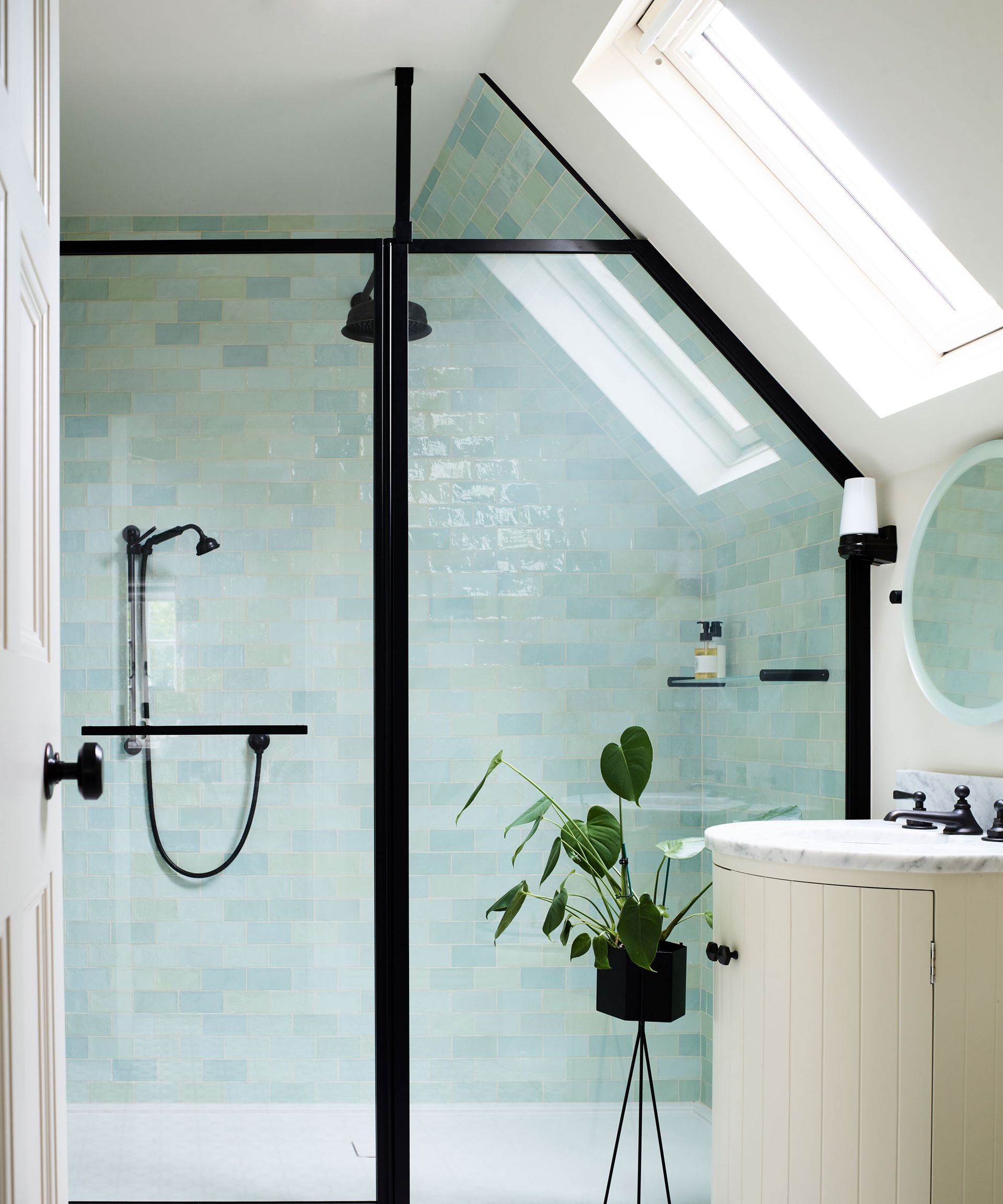 Even with the simplest of shower room setups, the position of the shower head can prove problematic. Placed at the wrong height or angle, it can ruin your shower experience, not to mention risk soaking parts of the room you have no intention of getting wet.
When positioning an angled showerhead, it's best to aim the spray so that it hits either a tiled wall or a fixed panel of a shower cubicle. Never aim it toward the shower door, or you're likely to experience leaks. This is especially important if you pick a 'tower' style shower with multiple body jets.
'If opting for an exposed shower model, it's important to remember that the shower hose and rail will limit the positioning of the shower head, with the height requirements being crucial,' says Paul Bailey, leader of product management at Grohe. 'Be sure to check that the shower head position will allow plenty of room for all family members to shower comfortably and enjoy a full body shower spray.'
If you're looking for a shower that's a good fit for a family bathroom, we'd recommend a dual-head model that offers a rain shower overhead, then a separate hand shower on a vertical bar that can be adjusted higher or lower for your children.
4. The quality of fittings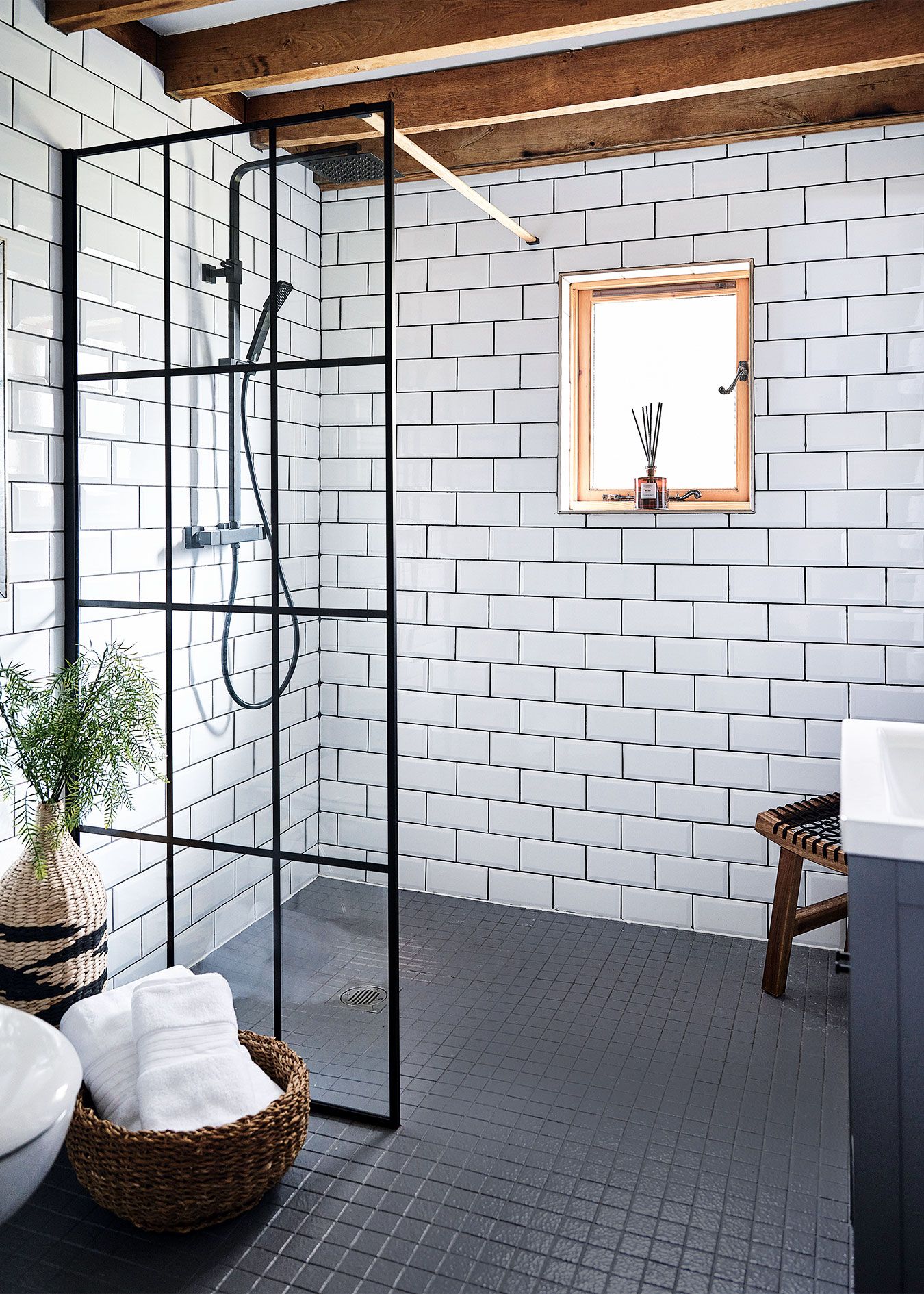 'Showers, like all bathroom fittings, should be as high quality as you can afford,' Emma Joyce, Brand Manager at House of Rohl. 'Cheaper systems can develop faulty valves, plastic handles can become brittle and snap off, and shower heads may corrode or fur up.'
When it comes to where to spend in a new bathroom, the shower valve is a key component and worth an investment. A good one 'should provide consistent water temperature and pressure and be easily and precisely adjusted,' according to Emma Joyce. 'Riobel's Riowise valves, for example, stabilize water pressure for steady temperature performance even in the event of a 50% drop in pressure.'
'Every Riobel shower valve has a single control for flow and temperature, so there is no need to plumb in a separate shut-off or diverter valve, and the design is kept sleek and simple.'
'It's important to ask the questions to the retailer on which shower is most reliable when making a new purchase. It's also worth considering which brands offer a lifetime warranty like Riobel does, as it proves they have confidence in the quality of their products.'
5. Not considering your water pressure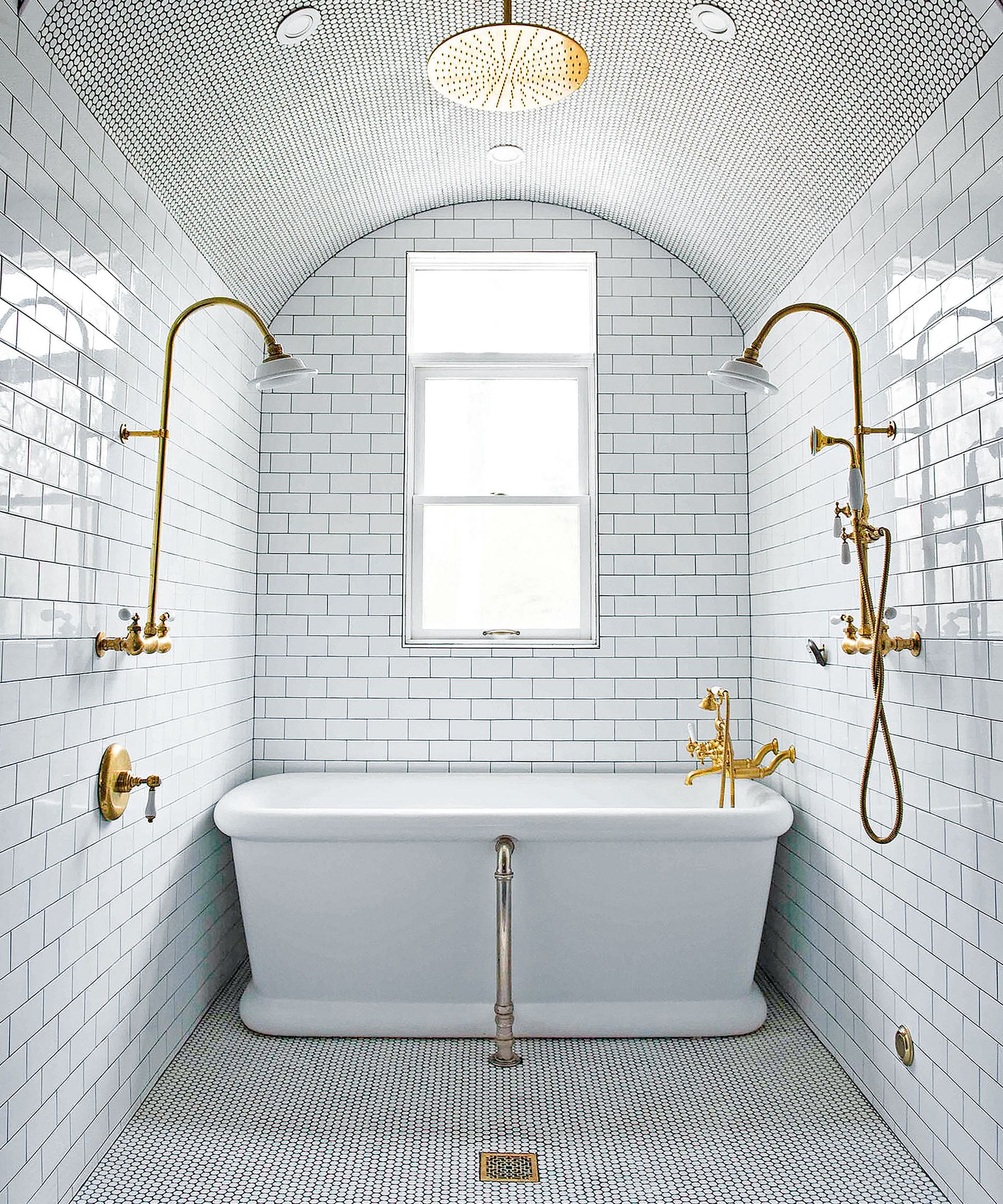 Too many times, we've heard tales of dissatisfied homeowners who have signed up for a drenching rainshower, only to have it installed and be met with, well, drizzle.
'Water pressure can seriously restrict the water flow to your shower so that you end up having an inefficient and unsatisfying experience,' warns James Lentaigne, creative director at Drummonds, who recommends that before you even start choosing a shower, you 'check your home's flow pressure – a builder or plumber can help you with this. Then ask your bathroom specialist which shower will perform best. Fitting a pump will help the water flow if your pressure is not sufficient.'
'Water systems fall into three main categories; Gravity – which generally suffers from low pressure, Combination boiler – often good pressure but can lack water flow, or a pressurized system with a storage tank,' adds Phil Etherden, managing director at The Albion Bath Company. 'This last option can combine good flow and pressure and is the preferred system for good showering. Find out what you have and choose a shower system to suit.'
'The simple rule-of-thumb is lower pressures require a smaller shower head. Go too large for your pressure and you'll get a disappointing dribble from the center of the head.'
6. Inadequate waterproofing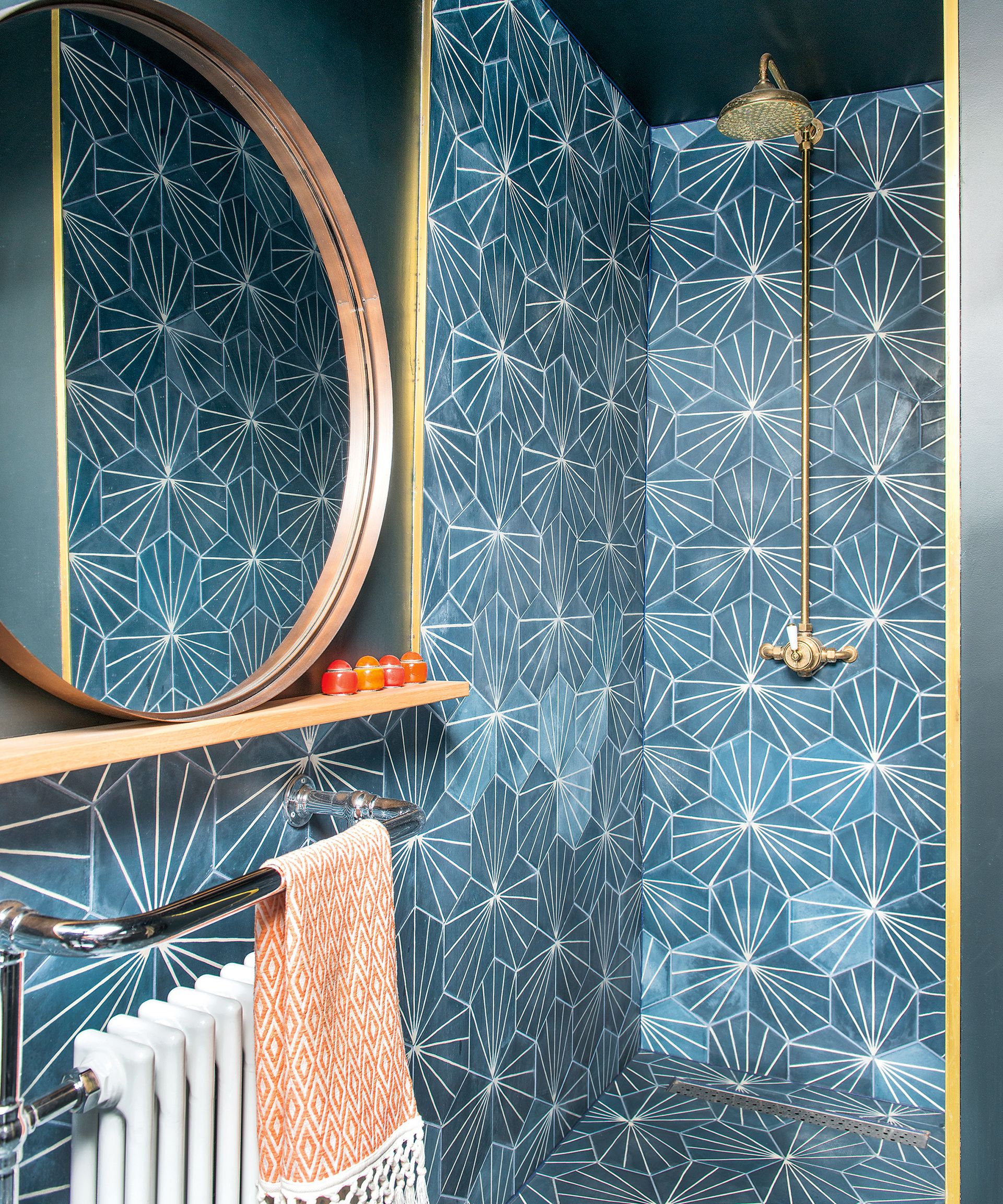 If you are considering an open-plan, walk-in shower design – in other words, a shower without an enclosed cubicle – it's essential that the space is waterproofed, or 'tanked'. This involves covering both the walls and floors in a waterproof membrane before you cover them in your chosen tiles or composite surfacing.
If you fail to waterproof the space, not only will you notice staining on surfaces, you are likely to cause long-term structural damage to the fabric of the building?
Specialists CCL Wetrooms (opens in new tab) recommends that 'floors should be waterproofed to at least one meter beyond the shower area in all directions to ensure that water spray is fully contained. Splash from a standard shower head can reach up to 1200mm from the center of the showerhead and an open plan wetroom without a glass screen or half-height wall will do little to contain the water.'
It also advises that 'walls should be waterproofed using FWM (flexible wall membrane) to a minimum height of 2200mm on all wall surfaces within the shower area.'
Editor-in-Chief, Homes Audience
Amy Cutmore is Editor-in-Chief, Audience, across Future's Homes portfolio. A homes and interiors journalist of 20 years standing, she has spent much of that time writing about technology, appliances and kitchens. While other people count how many countries they've visited, Amy tots up how many countries' washing machine factories she's toured (it's eight by the way, from South Korea to Slovenia). She can't leave the house without a decent pair of noise-cancelling headphones, and is always ready to explain an acronym – be it QLED, DAB or HDMI.