NutriBullet Slow Juicer review: for nutrient-dense juices
Start the year right with the NutriBullet Slow Juicer – a quiet and compact appliance bringing fresh juice to the table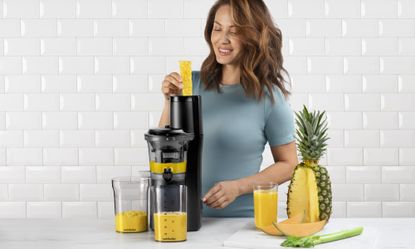 (Image credit: NutriBullet)
Small but mighty, slow but strong– the all-new NutriBullet Slow Juicer is a great addition to any kitchen. With its high-torque motor, you can expect every bit of juice to flow mess-free into the included container. From fresh green juice to kid-approved concoctions, this juicer will quickly become a family favorite.
Reasons to buy
+

Squeezes every bit of juice from fruit

+

Relatively quiet

+

Easy to assemble

+

Most parts are dishwasher safe
Reasons to avoid
-

Pulp gets through filter

-

Auger is nearly impossible to remove

-

Difficult to clean
Why you can trust Homes & Gardens Our expert reviewers spend hours testing and comparing products and services so you can choose the best for you. Find out more about how we test.
Fresh juice at your local Whole Foods can be expensive, and then there's the issue of plastic packaging to worry about. Not surprisingly, making fresh juice at home is a fraction of the price, and you're in charge of the ingredients. The Nutribullet Slow Juicer is a perfect option for beginners, which is why I was thrilled to finally test that theory in this NutriBullet Slow Juicer review
After a quick trip to the grocery store and a scroll through Pinterest for inspiration, I couldn't wait to start using my new NutriBullet Slow Juicer. They say beach bodies are made in the winter, and after drowning in pasta for the last month, my body was begging for something light and bright. This is what the best juicers were designed for, with health-packed fresh juices full of nutrients and all the vitamins your body could need.
The list of benefits to using a slow juicer is long, notably their ability to retain nutrients and extract more juice from fruits and vegetables. Rather than being shredded with a sharp blade, the best cold press juicers use an auger to more delicately compact foods and draw out all the liquids.
Wondering if the NutriBullet Slow Juicer stood up to the challenge? Keep reading to find out.
NutriBullet Slow Juicer: specs
Dimensions: 7" x 6.25" x 17"
Weight: 11lbs
Cord length: 39.3"
Motor: 150W
Color: Black
Chute: 3"
Warranty: 1 year
What's in the box?
24 ounce container to catch juice
Pulp container
Motor base
Grinding assembly
User manual & recipe guide
Juice bowl with separate spouts for pulp and juice
Cleaning brush
With minimal moving parts in comparison to other juicers, the NutriBullet Slow Juicer was much less intimidating to assemble. After washing with hot, soapy water, I dried off all the pieces and put it together in less than 60 seconds.
A nice touch, don't pass over the included recipe book. Every single juice I tried was colorful and full of flavor. As an inexperienced juicer, the 'Sunshine Delight' was my first trial. Made with only four ingredients (romaine, spinach, pineapple and orange), it turned out great. This combination was also a hit with my fussy kids, who could live quite happily on chicken nuggets.
Food Prep and Cleanup
Juicing sounds like a tedious task, but it's shockingly simple thanks to NutriBullet's smart design. Adding fruit is easy, especially with a chute that can be opened up to 3 inches. I'd recommend chopping fruit and veggies into smaller chunks, though, to avoid any jams (which I did not experience, by the way)!
In the chance something does get stuck, this model has a 'Rev' option designed to reverse the rotation and unclog it.
Reading the instruction manual is a necessity, especially for beginners. It does a fantastic job explaining how to use the NutriBullet Slow Juicer properly, and also includes important tips– such as peeling fruit and deseeding prior to juicing.
Using the NutriBullet Slow Juicer
Chute opens to 3": the chute expands to 3", allowing extra room for larger pieces of fruits and vegetables.
Container for pulp: there is a separate container included to catch the pulp. This is ideal for those who save pulp for recipes (hello, carrot cake!), and even infused water.
Quiet: compared to other juicers, the NutriBullet slow juicer is by far the quietest.
Modern: the matte black base and juice bowl are trendy and sleek. If you're a regular juicer, this appliance can live on your countertops without being an eyesore.
With only one speed setting, using the NutriBullet Slow Juicer is fairly straightforward. First, it's important to make sure all pieces are assembled properly. The juicing bowl fits snugly in the motor base, and the auger sits within the juicing bowl. The auger takes a little practice to snap in, but once that is in place, the juicer can be turned on.
If fruit and veggies are diced, the user can drop them into the feed chute. If pieces are larger, the chute conveniently expands to a full 3 inches. Although fruits like oranges should be peeled, strawberries can be tossed in whole.
Once all juice is extracted, NutriBullet recommends pouring water into the chute, which helps loosen stuck pulp and clean the machine. I took their advice, which made clean-up extra easy – after disassembling, that is.
I'm no bodybuilder, but I had a horrible time removing the auger. It was near impossible to remove, and it felt like a workout. Perhaps if you're a bodybuilder you won't experience the same struggle, but for everyday folks like me, it was a process.
Performance
Seasoned juicers know the remaining pulp says a lot about the quality of a juicer. Wet pulp indicates wasted juice, whereas dry pulp means the juicer did its job. Judging by the remaining pulp, the NutriBullet Slow Juicer really showed up.
There's no doubt about it, this NutriBullet juicer extracts every bit of juice for vitamin-rich drinks. One orange and half a cup of pineapple yielded an entire cup of juice!
Tips for using the NutriBullet Slow Juicer
Peel your fruit
Remove seeds
Avoid juicing ultra-fibrous fruits and vegetables, such as bananas
If juicing a stone fruit, remove the pit
Cut fruit to size that fits comfortably in chute
Cleaning
Cleaning the NutriBullet Slow Juicer is a breeze. All parts aside from the motor and auger are dishwasher-safe, something those of us who appreciate convenience can rejoice in. Make sure you save the toothbrush-looking tool in the box, because it comes in handy when cleaning the juice bowl!
One clever feature that deserves mentioning is the no-drip spout. Once the majority of the juice was extracted, there was a small drip, similar to a leaky sink. The spout has a plug that prevents any sticky messes on your counter, making it even easier to clean up!
Should you buy the NutriBullet Slow Juicer?
If you're a casual juicer looking for a budget-friendly option, this is it. Noticeably more powerful than alternatives, the Nutribullet Slow Juicer does a fantastic job extracting every last drop of juice. If you can't stand pulp, though, I'd recommend passing on this model for a centrifugal model. A small amount of pulp slipped through the mesh each time I used the device. While it didn't bother me, a second strain would have been necessary if I was juicing for my kids.
With a time-saving 3 inch chute, prep time is barely existent. Whole strawberries and large pineapple spears were no threat to the juicer, and yielded an impressive amount of juice. We live in a society longing for instant gratification, but sometimes slow and steady wins the race.
If this slow juicer isn't up your alley, the Nutribullet NBJ50200 made our list of the top juicers, and we can confirm it's just as strong and successful at producing nutrient-filled drinks.
About this review, and the reviewer
Midwestern freelancer Courtney Irwin is a working mom of three who loves nothing more than convenience and a good deal. Equal parts entrepreneur and family-gal, she believes hard work deserves to be celebrated – oftentimes in the form of a new gadget or sun-filled vacation!
When she's not on the hunt for the next big trend, you can catch her in her kitchen, which is her favorite room in the house. Courtney has spent years curating home renovation and beauty content, and is excited to bring real reviews to real readers. All products are tested in Courtney's home for accurate representation of use.
Midwestern product tester and writer Courtney Irwin is a working mom of three who loves nothing more than a good deal. Equal parts entrepreneur and family-gal, she believes hard work deserves to be celebrated. Oftentimes in the form of a new gadget or sun-filled vacation! When she's not on the hunt for the next big trend, you can catch her in her kitchen, cooking and testing appliances.