Ninja Cold Press Pro review: a budget-friendly slow juicer
Our small appliances editor reviewed the Ninja JC101 Cold Press Pro to see if this budget slow juicer can rival the best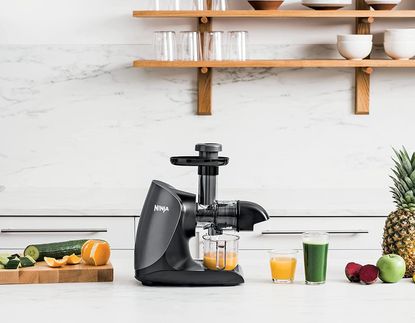 (Image credit: Ninja JC101)
The Ninja Cold Press Pro is one of the most budget-friendly slow juicers you can buy, but it isn't without fault. Find out how it held up when our small appliance editor put it to the test.
Reasons to buy
+

Amazing price point

+

Three filter sizes

+

Dishwasher safe parts
Reasons to avoid
-

It's very slow

-

Apple skin got stuck in the juicing mechanism

-

The pulp was quite damp
Why you can trust Homes & Gardens Our expert reviewers spend hours testing and comparing products and services so you can choose the best for you. Find out more about how we test.
The Ninja Cold Press Pro is one of the most affordable slow juicers I've come across, so I was keen to put it to the test and see if it is one of the best juicers on the market.
As a small appliances editor, I'm used to putting all types of appliance to the test. That includes the best cold press juicers, and also blenders, and even stand mixers. What I look out for in a slow juicer is a machine that extracts all of the moisture from fruits and vegetables, and can be easily cleaned when it's done.
The Ninja JC101 Cold Press Pro ticks one of these boxes, but while cleaning is easy, it's not the best at extracting juice from apples, oranges, and citrus fruits. For my full Ninja JC101 Cold Press Pro Slow Juicer review, keep reading.
Specifications
Type: cold press juicer
Weight: 8.3kg
Material: plastic
Attachments: three
Watts: 150
Dimensions: 13.78 x 6.89 x 14.17 inches
Ninja Cold Press Pro design
The Ninja Cold Press Pro comes with three filters for different types of juice. The largest filter is for juices with large amounts of pulp, the medium for typical pulp levels and the finest for pulp-free juices. These are color-coded to make it easier to use the right filter.
Ninja is the brand behind some of the best food processors and best blenders on the market. As a whole, I am a big fan of their products, and I found the same attention to detail in the design of this juicer.
With only 150 watts of power, this is definitely a slow juicer by nature. It is designed to carefully and slowly squeeze fruits and vegetables, which you feed in through a chute at the top. This chute is narrow, which means you will need to slice up ingredients before juicing them.
I found that quartered apples were on the large size, and Ninja recommends you cut everything into two-inch pieces before juicing. This is a bit of a hassle, particularly when you consider that you also need to peel some ingredients and remove stones and seeds from apples and oranges.
How to use the Ninja Cold Press Pro
Slotting all the parts together is easy. There is an illustration at each of the attachments that shows how to screw together and take the pieces apart. There are a fair few pieces, though.
You can open the juice dispenser by pulling a trigger and close it again to prevent dripping.
There is a jug included, with a capacity of 16-oz. This slots inside a pulp collector, which can be placed under the chute to collect your used pulp.
How it performed
You can push your fruit and veg through the chute, but I found that there is a gap at the sides that led to some pulp and juice coming out the top of the chute and onto the food tray when I was juicing.
This made me wonder if I had added too much fruit at once, but I then found that when I didn't keep adding apple, what was left was not pushed through the juicer and kept moving in the main chamber.
The process was very slow, which gave me time to prep my fruits and veggies before adding them. I found that adding fruits with peel such as apples ended up in some blockages at the pulp chute. When I went in and pulled a bit of the skin out, the process sped up significantly. I would suggest using softer fruits when using the juicer, or peeling before adding to smooth the process along.
How was the juice? Good, but not great. I was able to get about 10.5 fl oz from three apples, which is slightly above the average I've found with centrifgual juicers.
I suspect this is because of the large amount of pulp that I ended up with in my final drink. I used the medium filter, which seemed appropriate for apples, but drinking my juice was a little more like drinking a smoothie.
There was less pulp waste than I'm used to as a result, but the pulp I did get was quite damp to touch, which was a shame given how long the juicing process took.
Cleaning the Ninja Cold Press Pro
Cleaning is immensely straightforward. You take the machine apart and add to the dishwasher, with the exception of the filters, which you wash by hand using a scrubbing brush (included).
Homes & Gardens verdict: should you buy the Ninja Cold Press Pro?
This is a top pick for a certain type of consumer. If you're on a juice cleanse and want all the goodness possible from apples, celery and ginger, this machine will extract a lot of pulp and leave you without as much food waste as a centrifugal juicer.
It is incredibly affordable for a juicer, but you can still buy the Nutribullet Pro juicer (which is my top pick of centrifugal juicers) for less, so if you care more about value and less about juicer type, I would suggest you opt for the Nutribullet.
If it's a slow juicer you want and you're willing to splash out, our Hurom HP Slow Juicer review will be worth a read. Like I said though, while it's not my favorite juicer I've tried, it is definitely the best priced slow juicer I've ever used, making it a top pick for those on a budget who want a slow juicer.
About this review – and our reviewer
Millie Fender is our Editor for all things small appliances at Future. She spends a lot of time testing everything from toasters to air fryers in her apartment, recommending the best ones to our readers.
All our reviews are tested from home, and the Ninja Cold Press Pro review is no exception. Millie put it to the test for a number of days, making a variety of juices with the different filters provided.
Millie Fender is Head of Reviews on the Homes and Gardens Ecommerce team. She specializes in cooking appliances, such as the best kettles, and also reviews outdoor grills and pizza ovens. Millie loves to bake, so she will take any excuse to review stand mixers and other baking essentials. When she's not putting products through their paces in our dedicated testing kitchen, Millie's reviews are conducted at home, meaning she uses these products in her own day-to-day life.