Kitchen interior design – designer Henriette von Stockhausen shares her top tips
An expert at conjuring up quintessential British country house style, Henriette von Stockhausen reveals her top kitchen interior design advice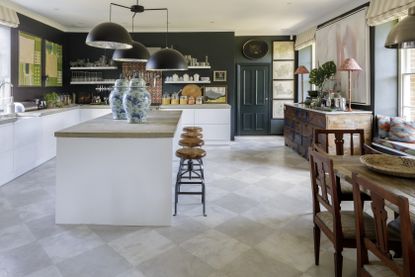 (Image credit: VSP Interiors )
Henriette von Stockhausen may have been born in Germany, but her particular skill is in creating interiors that emulate sophisticated English country house style – and here she brings her skills to kitchen interior design – an often overlooked element when we're considering kitchen ideas.
Cabinetry and layout are, of course, vital in a kitchen's success, but how do you make a space feel personalized, decorated and elegant? Here, Henriette explains the processes and design rules she follows to get such sophisticated results.
Kitchen interior design
With your kitchen plans in progress, now is the time to consider the aesthetics – doing so as you plan rather than after will help you create a more interesting finish.
1. Treat kitchen interior design like that of other rooms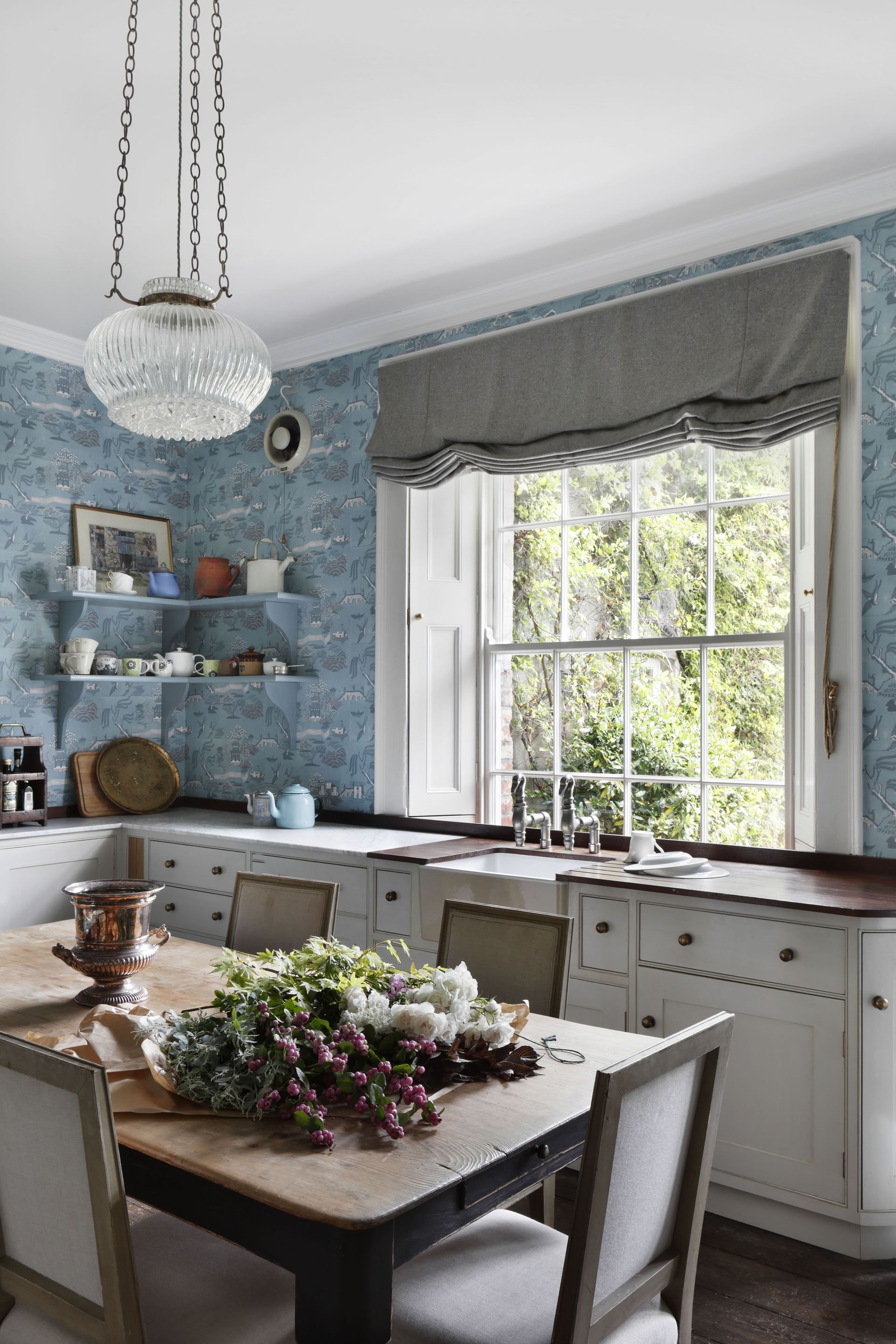 Henriette is at pains to point out the difference between designing a kitchen and kitchen interior design.
'In my opinion, the first thing you must consider when decorating a kitchen is how you can make it feel like a room,' says Henriette, who co-founded design agency VSP Interiors (opens in new tab) in 2000.
'Treat it like you would a drawing room or master bedroom; pay attention to fabrics, lighting and comfort as well as practicality and suitability to lifestyle. By doing this, the room will feel more inviting.'
2. Include art in a kitchen interior design scheme
'I adore incorporating antiques like dressers and chefs' tables along with picture lights, fine art, and furnishings that one wouldn't expect to see in a kitchen, so that it feels more like a room.'
3. Mitigate the room's hard surfaces with tapestries
'Choose art with impact. A large tapestry can create a brilliant focal point behind a dining area or work surface, while also breaking up the monotony of a wide-reaching blank wall. This will also present an opportunity to add picture lights above art for another light source.
'Tapestries also help with noise reduction. I always advise my clients against covering surfaces in tiles as it's quite a hard finish. However, if you do settle for tiles, opt for a fabric skirt/valance underneath rather than cabinetry.'
4. Create an illusion of space with mirrors
Although part of the fabric of the room, imaginative kitchen backsplash ideas can be part of the interior design.
'I often use antique mirror as a backsplash to create the illusion of more space and to add patina to the look. Old billiard slates or antique wooden countertops make for a great alternative to newer materials, and add instant character and individuality.'
5. Mix old elements with new
'Whenever you can try to incorporate salvaged pieces, from floors to taps to sinks. Local reclamation yards are great places to look. Also, try to use old pieces of marble from other projects if you have them, even if it's just enough for one island or a breakfast bar. Adding an element like this that is completely individual can make a huge difference.'
6. Add color and pattern with wallpaper
'If there is one decorative thing you can do to make a difference, I would always recommend wallpaper. Strong or subtle, it doesn't really matter, it will have a big impact.'
Country wallpaper ideas for kitchens often work best in period properties, bringing a softness to the room that contrasts cleverly with harder surfaces.
7. Add open shelving for display
'Open kitchen shelving ideas add a country dresser feel to a kitchen while breaking up a continuous line of cabinets. Add antique brass rods underneath for cups and utensils to break up the space, making it feel more lived in less stark.
'If you are able to, add some open shelving with books as it will help make the room feel and look more lived in.'
8. Make your cabinetry unique
Henriette is a fan of the trend for two-tone kitchens.
'Consider painting your units in two different colors. Make the inside panel different to the outside frame, or the top units/shelving a different color to the bottom units. Even if you have opted for a more affordable Shaker style kitchen, this will help give it a custom-made feel.
'Use ironmongery seen on traditional furniture to give fixtures a freestanding, furnished look, too.'
9. Create a social space with curves
'Consider round tables in kitchens. I have found them to be more inviting and conducive to conversation. You can then choose a lovely pendant light for above. Try to have these on a dimmer so you can have candles lit too if you wanted.'
10. Layer lighting for atmosphere
Kitchen lighting ideas should be carefully thought through to conjure up the right moods, says Henriette.
'Always have three levels of lighting – this is very important. I adore adding built-in table lamps to islands and countertop space. I would always choose directional wall lights over work surfaces rather than modern lights that are hidden under cupboards.'
11. Use original features to boost character
'A fireplace is a great feature to have in a kitchen as it adds atmosphere. High-level fireplaces not only look great, but double-up as a pizza oven.

'Always position your sink in front of a window if at all possible.'
12. Think about eye-catching storage
Kitchen storage ideas, too, benefit from extra research, says Henriette.
'Unusual pieces of furniture can not only look amazing, but can double-up as extra storage. I added a slab of marble on top of an antique Robert Kime chest and made it into a cocktail bar with drawers underneath for extra storage.
'If you opt for a more traditional island make sure you either get as much storage as possible out of it (if space is an issue), or use it to create an impact in the center of the room by making it a beautiful chef's table with a ceiling-hung rack for pots and other cooking utensils with integrated lighting.'
13. Consider comfort
'Consider comfort as well as utility when designing your kitchen. Use upholstered chairs with back support so that guests can relax. Not only will it give the room a softness, but it's an opportunity to use a lovely patterned material which will hide all manner of stains.
'Layer the look by adding lots of cushions of different sizes and fabric to add a bit of fun. Make sure everything has a removable cover so it can be cleaned easily.
'Add antique rugs to soften the space and help with unwanted echoes in larger spaces, unless you have young children or dogs, in which case, stay away!
'If you have the space, an area for separate comfortable seating is a great idea. There's nothing better than a sofa, or two armchairs in a kitchen that one can relax on and read the papers with a cup of coffee. If you regularly need to accommodate children, consider flexible bench seating.'
14. Make everything truly accessible
'Opt for pull-out drawers rather than door and shelf units so that you don't need to bend down to find what you're looking for.
'Have a breakfast fridge if you have the space. That way kids can help themselves.
'Huge spaces are not always best. Consider how you cook and entertain – sometimes a smaller kitchen will work better.'
15. Look for new, really useful innovations
'Most importantly, hire a professional kitchen designer to enlighten you on the latest appliances and how best to combine them. When I designed a client's kitchen with Artichoke (opens in new tab), I had never seen or heard of a walk-in fridge room completely lined in marble – absolutely amazing!
'Without their guidance, I would not have considered one as an option and it has turned out to be the client's favorite part.'
Henriette studied at City & Guild of London Art Schools and gained a master's degree at Sotheby's Institute where she honed her appreciation and love for antique furniture and decorative design from 17th Century through to 20th Century. Henriette studied at the prestigious Inchbald School of Design. On graduating she gained experience with leading interior designers including Stephen Ryan who had been head of David Hicks Design. She also had a spell in theatre design which enabled her to indulge her more flamboyant side and made her realise just how much she relishes any challenge.