How to design a bathroom – expert bathroom planning and layout advice
Discover how to design a bathroom to perfection – it's a great opportunity to make the most of your space in style
(Image credit: Mandarin Stone)
Wondering how to design a bathroom?
Designing a bathroom will take perhaps more thought than any other room. The kitchen might be the exception but, even here, there is invariably the reassuring presence of a kitchen designer to smooth the process.
With the bathroom, you will often find yourself managing the plasterer, the plumber and the flooring installer alone, so it can feel a little overwhelming.
The typical bathroom is small, requiring clever use of space to shoehorn in all the desired features and make it good looking and comfortable at the same time.
And installation can be deceptively tricky, involving plumbing, intricate spatial design and technical skills.
With a range of inspirational bathroom ideas to choose from, it pays to have some kind of design service, either from an interior designer, a specialist bathroom designer or, at the very least, an experienced builder/plumber with an eye for design.
How to design a bathroom
Much like planning a kitchen, when approaching how to design a bathroom you can get the ball rolling by analyzing how you use your current room, noting what works and what doesn't.
Then, look at bathroom pictures for inspiration and draw up a wish list that takes into account all potential users, their individual needs and imagine how these might change in the future.
For instance, a family bathroom will usually require a bath, hardwearing and splash proof surfaces, while a master bathroom or en-suite can afford to be a bit more luxurious.
How do you plan a new bathroom layout?
As there are so many bathroom layout ideas to choose from, how you plan your new bathroom layout will depend on many factors. This includes the function of the bathroom, the size, who will be using the bathroom and how often.
Let's start with the design effects that a good bathroom layout can create:
The view upon entrance: This is an important part of design, so makes a good starting point for your bathroom layout – you want to see the bath or basin first, not the toilet.
Choose one key piece: Be it a freestanding bath, heart-stopping vanity unit or a beautifully tiled shower area and build the layout around it.
Symmetrical layouts: if the room's proportions lend themselves to symmetry, it is worth plotting a symmetrical layout, perhaps aligned with an architectural gem like an original sash window.
Make space: ensure there is adequate space around each fitting for comfortable use and pay attention to the swing of shower doors. In a tight space choose inward opening doors or an over-bath shower.
Ask experts: 'Seek specialists' help to see beyond the existing layout. It's surprising how even the smallest of bathrooms can be imaginatively planned,' adds Darren Paxford, National Sales Manager, Vitra (opens in new tab).
Create drama in larger bathrooms: avoid everything clinging to the walls and instead experiment with angles. An offset bath can prove more dynamic, or incorporate a clever walk-in shower idea behind your bath by bringing the bath forward.
'When planning a bathroom, always start with the layout,' advises Yousef Mansuri, Head of Design at C.P. Hart (opens in new tab).
'The layout of the scheme is primarily dictated by the position of the soil stack pipe for the WC and whether it can be moved or not. The toilet has stricter limitations than moving pipework due to the fall of the waste.'
The ideal is to work with minimal bends in the toilet's pipework to avoid blockages, so relocation can require significant effort, but is not impossible.
The job is easier if the new location follows the direction of the floor joists. It is also possible to move a toilet further along the external wall that hosts the soil stack, drilling a new hole through the wall and connecting into the soil stack externally.
'Once you know where this is positioned, you can start thinking about where the basin, bath and shower will go. Pipework tends to be more flexible when it comes to repositioning,' continues Yousef.
Another option is to install a new raised floor, with enough depth for pipes below but this will result in a step in the room.
'Once you have your layout and therefore measurements, the exciting part starts – you can create your mood boards and choose your products. Make sure you don't forget about towel rails and heating when considering all of this.
'One big mistake we often see is once having left the shower, people have to walk across the bathroom to reach their towel.'
How to design a family bathroom
This is usually the biggest bathroom in the house, accessible from the main hallway. Fittings and finishes in a busy family bathroom should be selected with low maintenance and durability in mind.
'I would always use porcelain tiles in a family bathroom, including slip-resistant porcelain on the floors, as they are very hard wearing and will still look amazing in years to come,' says Ripples' senior designer Katie Gisby.
'They also require zero maintenance, which is essential.' Plenty of storage is also essential, for toddler toys to an ever-growing range of toiletries for the teens.
Double up on bathroom vanity ideas, basins and mirrors where space allows and don't be tempted to evict the bath if it is the only one in the house. Instead consider a space-saving shower-bath.
How to design a master en-suite
In a master en-suite bathroom, only used by responsible adults, you can afford to throw caution to the wind and splash out on luxurious materials and a more complex lighting scheme to create a relaxing mood.
If there's space, opt for his and her vanity areas with attached dressing rooms if you're very lucky.
This is the place to splash out on expensive modern bathroom ideas like a steam shower or elaborate sound system, which might get damaged by tampering tots or clueless guests - and to indulge in luxe surfaces to your individual style.
If space is tricky, be creative with your small bathroom ideas and consider a bathtub in the bedroom with just a small area sectioned off for the toilet and basin.
Planning shower rooms, wet rooms and guest en-suites
Shower rooms and guest en-suites can often be squeezed into a surprisingly small footprint using space-saving fittings and a cloakroom basin. Keep it simple, safe with thermostatic valve showers and easy to clean.
'The first thing to consider with a shower is the type of floor you have. Be it a tray or tiled floor, an anti-slip option is essential,' advises Yousef Mansuri of C.P. Hart.
'Many steel trays offer an anti-slip option and composite trays are often matte in finish for additional grip. If tiling the shower floor, it's incredibly important to choose a matte finish tile for grip, rather than a gloss, which would be dangerous.'
There are several wet room ideas and designs available, from ultra-minimal frameless options, to the bold statement black Crittall styles.
'It's important to note, that if the width of the panel is larger than 1100mm, you will require a bracing bar for stability.
'These can either be fixed to the wall or the ceiling, depending on the design. Some homeowners, however, prefer an entirely enclosed shower rather than a walk-in. The benefit of this is that the heat is kept within the showering space.'
Pick the perfect bath
'Baths come in many different shapes, styles and materials, and consequently there are baths for every budget, style and need,' continues Yousef Mansuri.
'Freestanding stone, composite and cast-iron baths are at the high end of the price spectrum and offer substantial benefits compared to inset steel and acrylic tubs. Composites are warm to the touch and can be repaired easily, while cast iron baths arguably have the best heat retention properties.'
Find the best brassware
'Brassware is one of the the most important elements of any bathroom. As working parts with continuous water flowing through them, they need to be durable enough to withstand the wear and tear of daily use,' says Youssef Mansuri.
'Of all the elements that make up a bathroom, we recommend investing in quality brassware to ensure longevity. Most brassware is wall mounted, which makes it much harder to fix. Therefore, paying more for brassware at the beginning will pay dividends later on.
'It's also important to pick products that suit a property's water pressure. Older Victorian properties for example, typically do not have suitable plumbing to give enough pressure for large overhead showers.'
Prioritize bathroom lighting at planning stage
Smart bathroom lighting ideas can have a massive impact on the end result and should be planned at an early stage to ensure all key fittings are illuminated properly.
'Be it your ultimate spa-like sanctuary or a busy family bathroom with a fresh, crisp feel, good lighting can make a small bathroom look bigger and a large bathroom feel more intimate,' says Sally Storey of John Cullen Lighting (opens in new tab).
'Layers of light, on dimmers and separate circuits, will allow you to switch between bright light needed for cleaning to softer levels for a relaxing mood.'
'Bathroom lighting is as important as positioning the sanitaryware,' says Yousef Mansuri. 'The overall mood and atmosphere of the bathroom is dictated by the lighting scheme, so this should be decided prior to signing off any designs. Make sure you consider lighting without relying too heavily on downlights.
'Although these are fantastic at giving an even covering of light, they are not the most sympathetic and can often take the charm out of a room, leaving it looking clinical.
'Try using two lighting circuits, one for the downlights and another which includes more inventive feature lighting, such as recess lights, under basin lights, wall lights and marker lights fitted to the floor to up-light the bath.'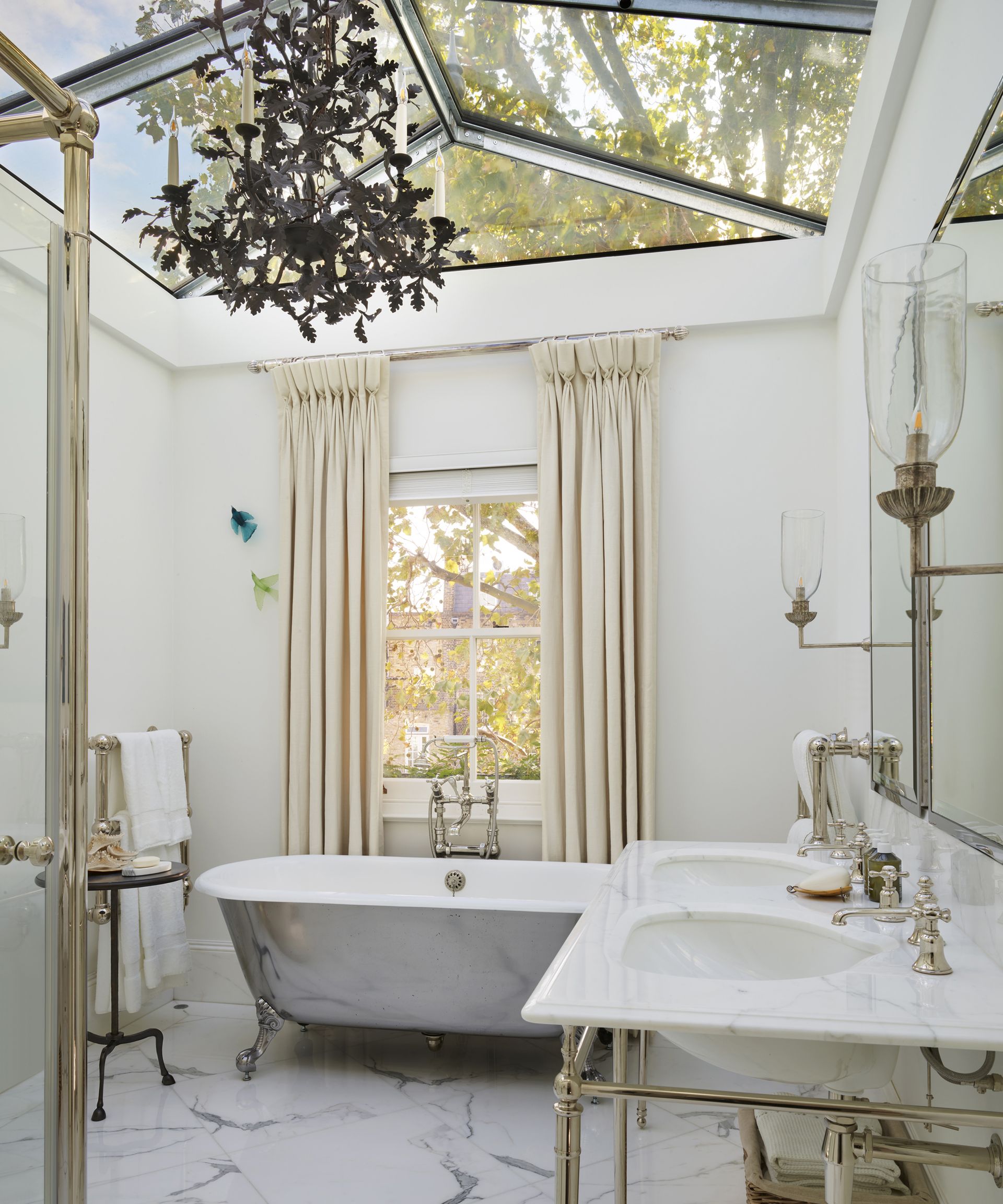 Aim for sufficient task lighting in the shower and vanity areas, plus ambient lighting around the bath and in alcoves and niches. The latest smart lighting controls allow pre-programmed settings.
'These lighting scenes cover everything from early morning with lights gradually illuminating to a daytime level, to an evening scene that is dimmed to create a peaceful ambience to relax and unwind in,' explains Phillip Pini, Residential Business Development Manager at Crestron (opens in new tab).
Look out for wireless lighting controls, such as Crestron's Pyng™ system, which is installed without cables and can include control of thermostats, security and audio, if desired.
Achieve beautiful bathroom flooring
Porcelain, natural stone, terracotta and encaustic bathroom tile ideas are all beautiful if you're looking at bathroom flooring ideas.
'Think about the look you want to achieve and the practicalities involved,' advises Fired Earth (opens in new tab)'s Colin Roby-Welford. 'Repeated contact with water makes certain materials unsuitable, such as wood flooring, which may warp and stain.'
Ensure you cater for bathroom storage
'At the very starting point of your project, think about bathroom storage ideas, particularly the amount and type of storage you require, so that you can tailor the arrangements to your specific requirements and to the amount of space you have available,' says designer Anna Haines (opens in new tab).
'Bespoke joinery can be made to fit your space and style. I'm currently designing a small shower room with a vanity unit wrapped in tongue-and-groove panelling to match the wall, and built to the same height. It makes the unit look less obtrusive,' continues Anna.
What else do I need to consider when planning a bathroom?
So you've got your plans in order, but what else do you need to consider when planning a bathroom?
Shiny new fittings can highlight imperfections in the original space, so it's worth updating architectural elements like doors, plinths and cornicing.
A simple skim of plaster can tidy up a scrappy ceiling. Well-dressed windows will also help create a really smart finish. Plantation shutters designed for bathroom use will provide privacy and are easy to clean.
Don't forget to keep some budget back for beautiful accessories that will bring the whole look together. 'Take your lead from boutique hotels and make sure there are plenty of lovely toiletries and squishy thick towels,' adds Alternative Bathrooms (opens in new tab)' director Jane Gilchriest.
Will an extra bathroom add value to your home?
If you're wondering if adding an extra bathroom will add value to your home, it's likely the move will pay off.
Adding extra bathrooms is a recognised way to boost your property's value and can do wonders for the morning rush hour.
Options include turning an adjacent box room into an en suite, stealing an unused area of an upstairs landing or using stud walls to section off a large bedroom.
Smart downstairs utility or cloakroom ideas can incorporate a shower room if there are no options upstairs.
The advent of electric showers and pumped drainage systems, such as macerators, means there are few spaces that can't accommodate bathroom fittings.
Macerators are noisier than gravity-based drainage, but many people can accept the compromise, particularly if the extra bathroom is only intended for occasional guest use.
Plumbing a new room is easier and cheaper if it is located next door to an existing bathroom or above the kitchen, and not too far from the external soil stack, so that pipework doesn't have far to travel.
What makes a good bathroom?
If you want to know what makes a good bathroom, the secret is that it depends entirely on individual needs. Every person will have different priorities, so these should be taken into account.
For example, a family bathroom might need both a bath and a shower plus lots of storage, while an en suite might just need a small shower and a toilet.
The layout is also key and how this works in the space you have. It's also a good idea to think about both lighting and storage and the best way to achieve these.
Additional words / Linda Clayton
Jennifer is the Digital Editor at Homes & Gardens. Having worked in the interiors industry for a number of years, spanning many publications, she now hones her digital prowess on the 'best interiors website' in the world. Multi-skilled, Jennifer has worked in PR and marketing, and the occasional dabble in the social media, commercial and e-commerce space. Over the years, she has written about every area of the home, from compiling design houses from some of the best interior designers in the world to sourcing celebrity homes, reviewing appliances and even the odd news story or two.