Farmhouse style gets a luxury rethink in this characterful country home
Casual yet sophisticated, with a country aesthetic that's both rustic and elegant, this Houston Oaks home is full of pleasing contrasts
(Image credit: Julie Soefer)
Located in the prestigious neighborhood of Houston Oaks, Texas, this newly built farmhouse is something of a rarity in the area. Properties in Houston Oaks often serve as second homes, but the owners of this rural gem planned to use it as their primary residence. They wanted an open-concept home that referenced rustic farmhouse style, but also elegance and comfort.
These seemingly opposing styles combine to make a truly unusual and appealing home and put this oasis of calm among the world's best homes.
Good looks like these don't happen by chance, and this was a real team effort between the homeowners, Ryan Street Architects (opens in new tab), Byer Builders, Inc, and lead designer Megan Phillips of Eleanor Cummings Interior Design (opens in new tab).
Take the tour, as lead designer Megan Phillips explains the inspirations behind the interior and architectural choices for this home and describes how the unusual balance of rustic and luxe finishes was achieved.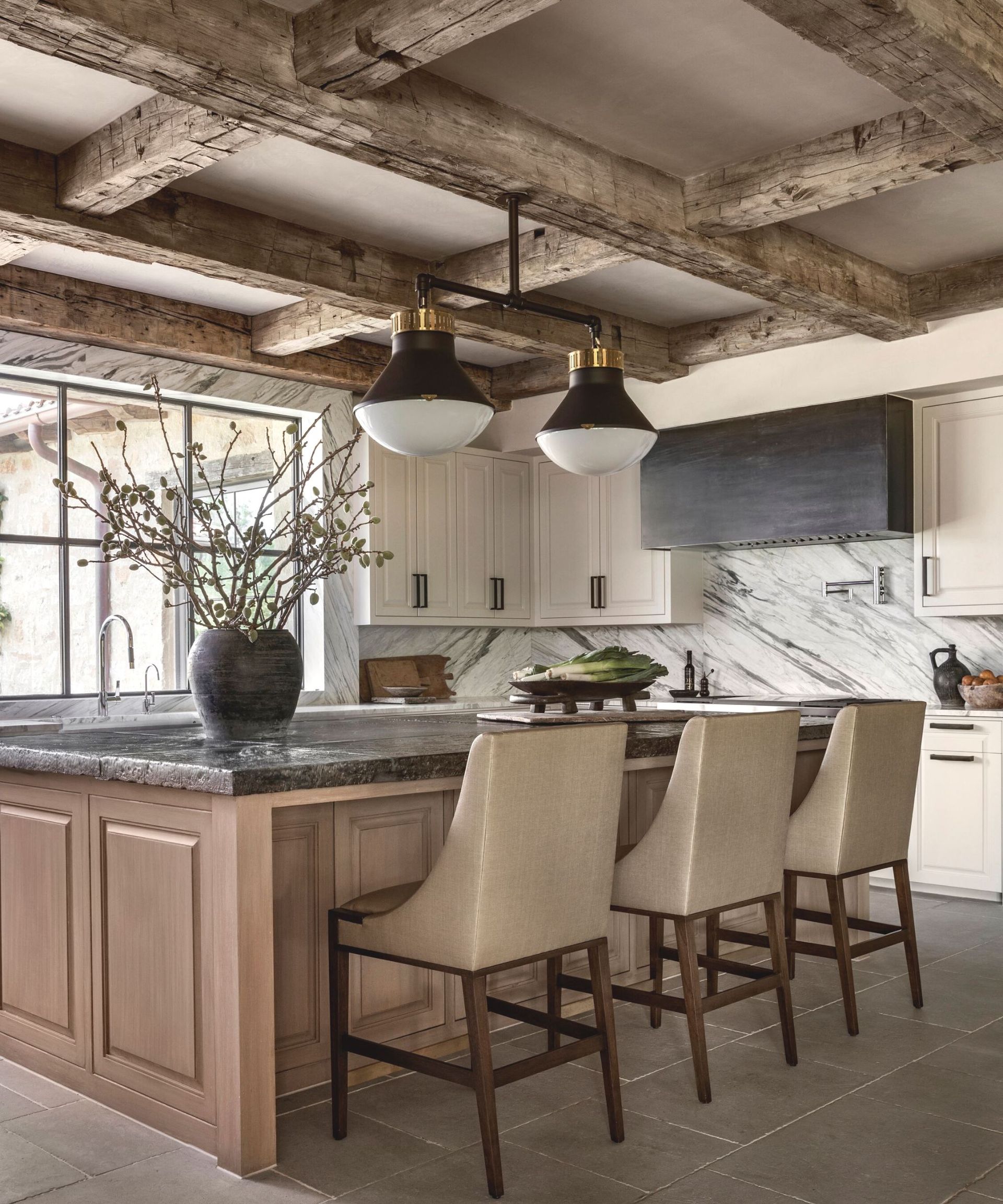 'A casual sophistication is woven through every area of this home. Soft and comfortable moments are balanced by crisp moments of modernity for a harmonious design that evokes peace and authenticity,' says designer Megan Phillips.
Kitchen ideas offer a fresh perspective on rustic home design and the room boasts an unconventional steel hood that was custom designed by Ryan and the RSA team.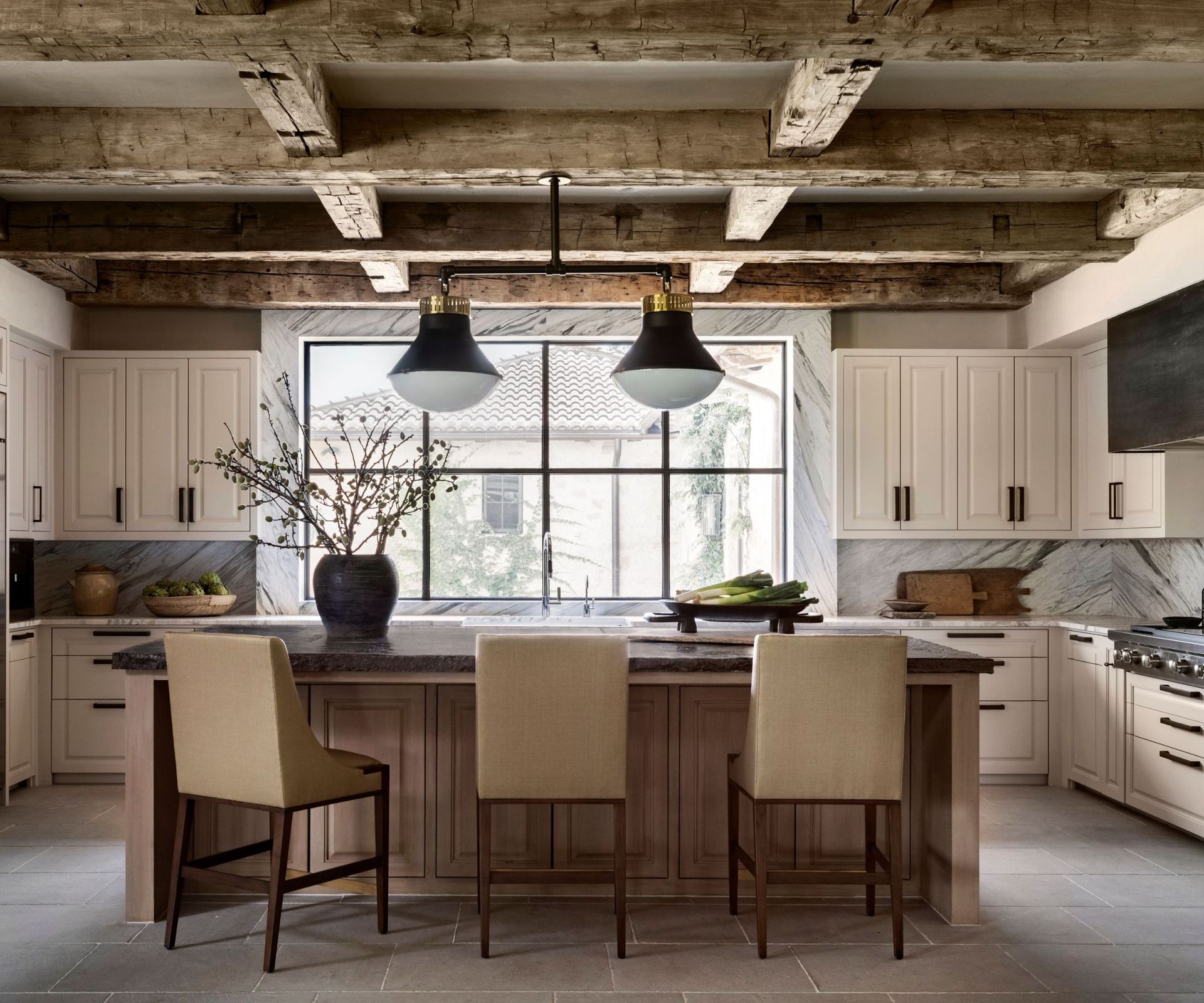 An Urban Electric lighting fixture adds a soft, modern touch that complements the black and white marble backsplash and countertops, and contrasts with the thick reclaimed bluestone counters, sourced from Belgium by Chateau Domingue. The gnarled, reclaimed beams reference right back to true farmhouse style.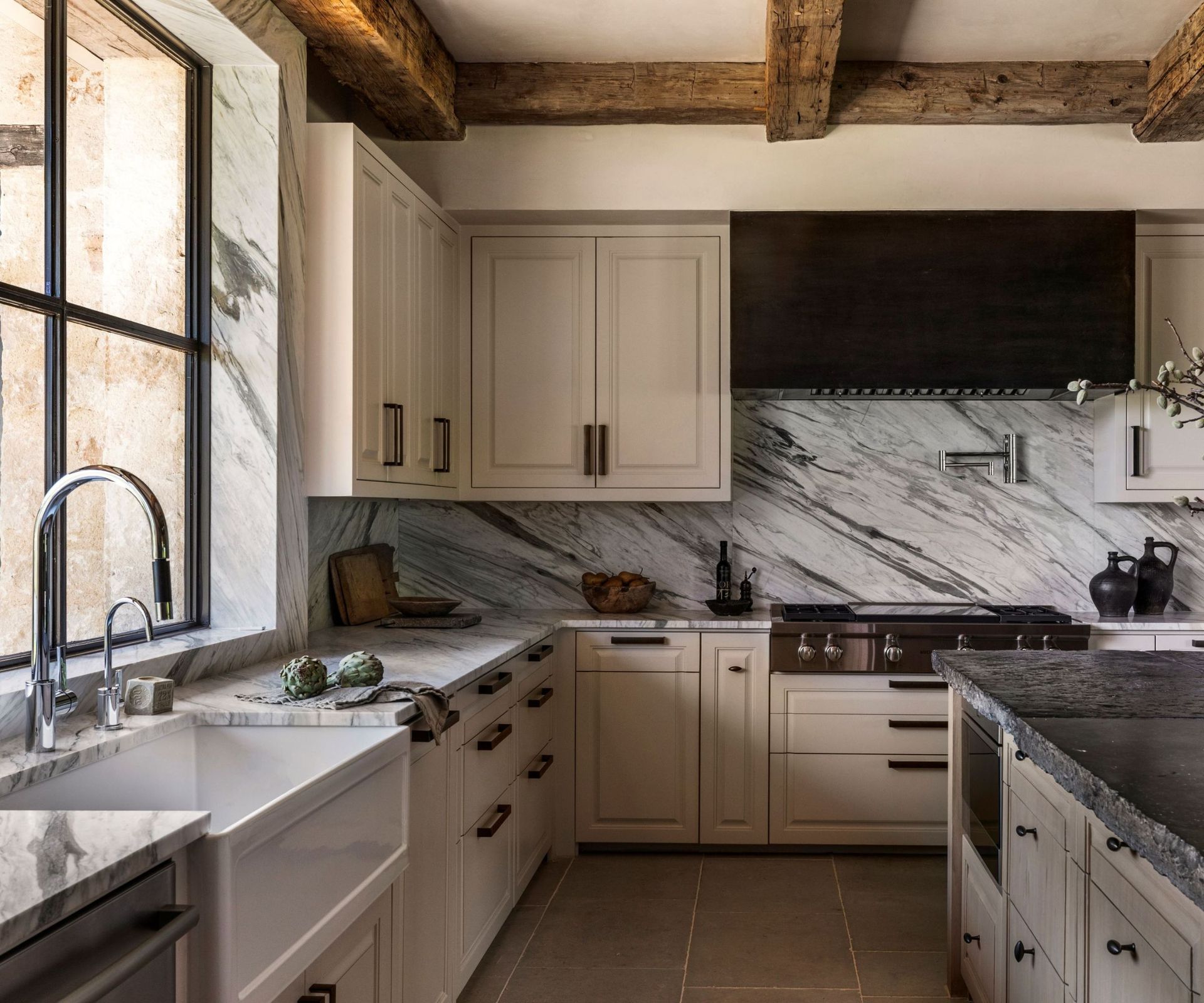 In the kitchen, as elsewhere in the house, an understated color palette paves the way for rustic elements to take center stage and plaster walls are juxtaposed against reclaimed wood beams for added warmth and texture throughout.
Close collaboration between architect and designers for this new build
Close collaboration between architect and designers for this new build
Ryan Street
Architect Ryan Street of Ryan Street Architects (opens in new tab) worked with Eleanor Cummings and lead designer Megan Phillips of Eleanor Cummings Interior Design (opens in new tab) to create this home around soft, comfortable moments that are balanced by crisp modernity. Indicative of the soulful homes Street and Cummings are both known for, this property maintains an emphasis on comfort and authenticity while revealing a fresh take on rustic design.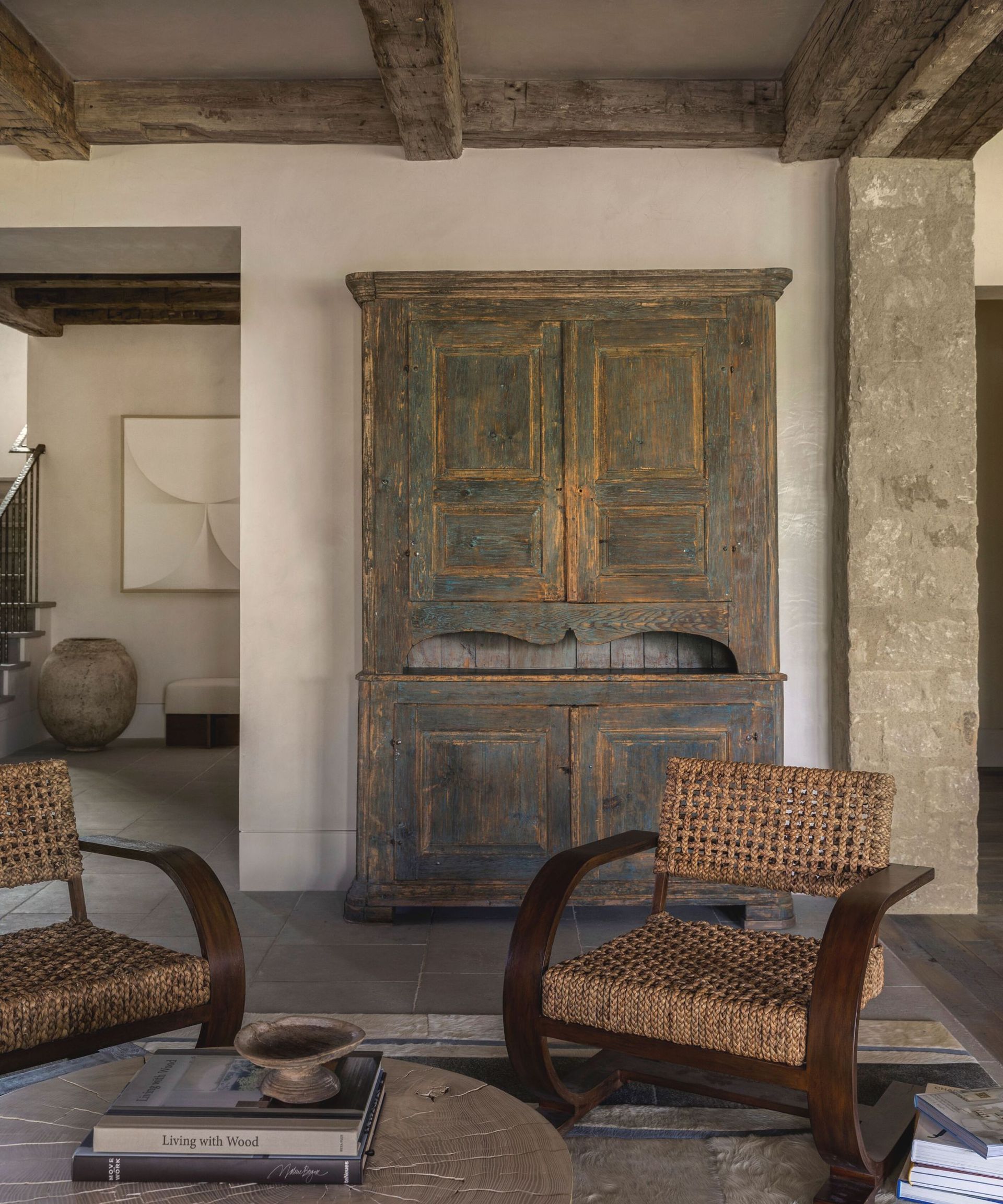 In the kitchen sitting area, the designers wanted to make a cozy area to have your morning coffee or a place to have cocktails with a few friends. The antique cabinet was purchased from a dealer in Charleston, SC, Alexandra Antiques.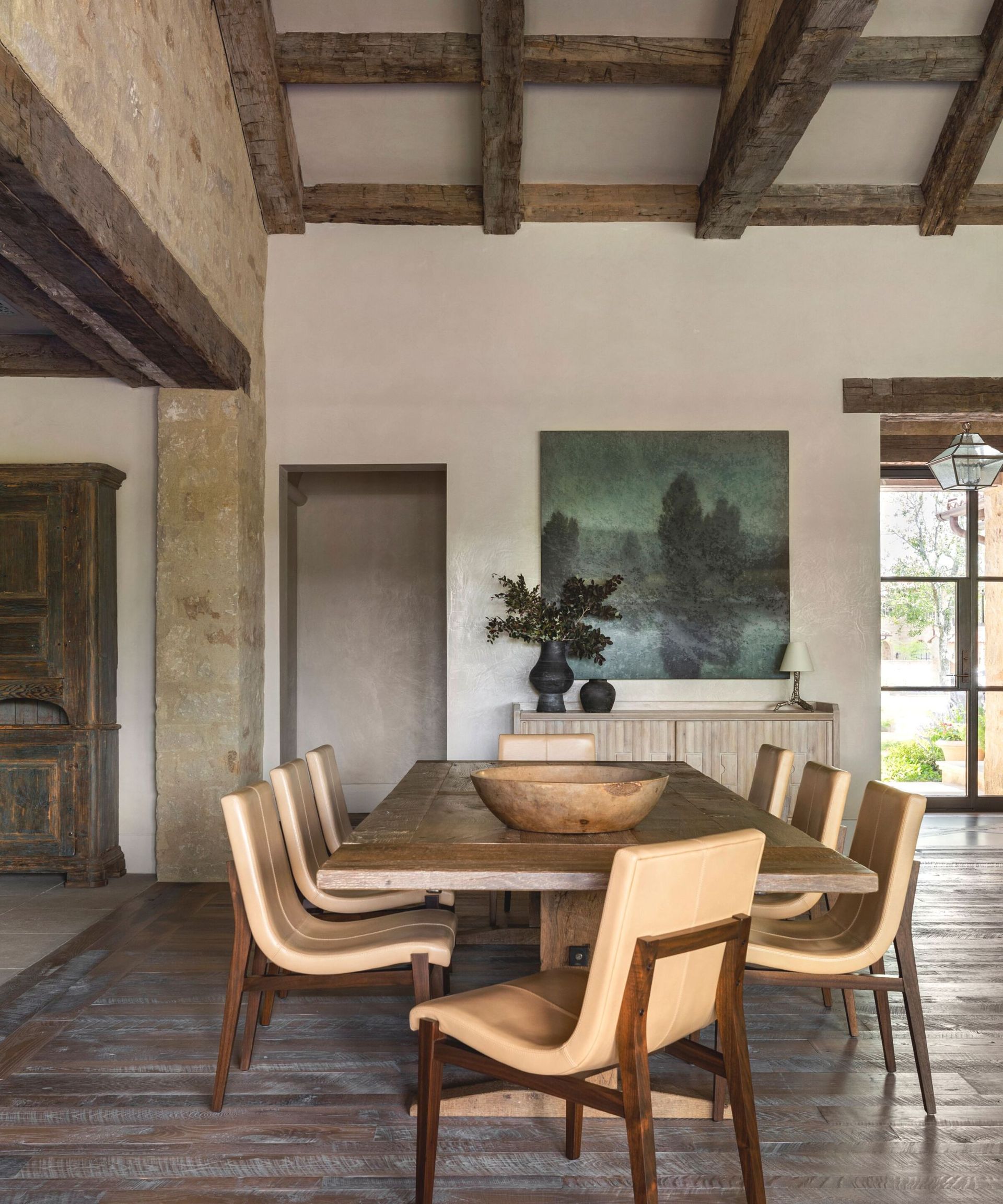 Megan Phillips' dining room ideas are the perfect illustration of that combination of old and new, rustic and luxe. The table is made from reclaimed French oak with a steel stretcher base, with modern leather Holly Hunt dining chairs providing further counterpoint. The moody landscape painting is by Michael Dines and subtly draws together the home's soft, natural color palette.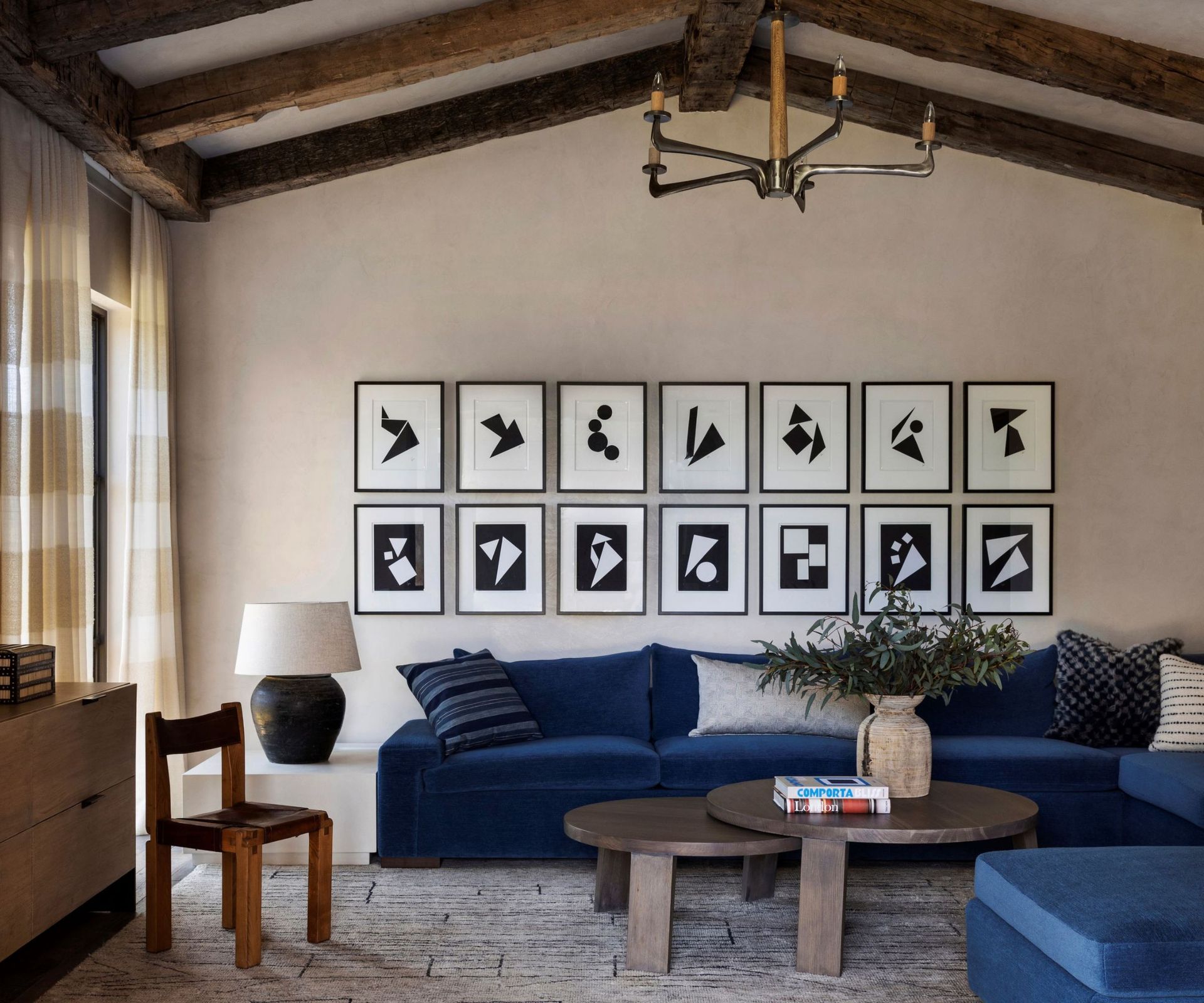 This striking family living room came about because the homeowners 'wanted a cozy spot for their family to snuggle up with their dog,' says designer Megan. The large sectional is custom and covered in plush Holland and Sherry fabric. The one-of-a-kind wood and steel chandelier is made by Lucca Antiques.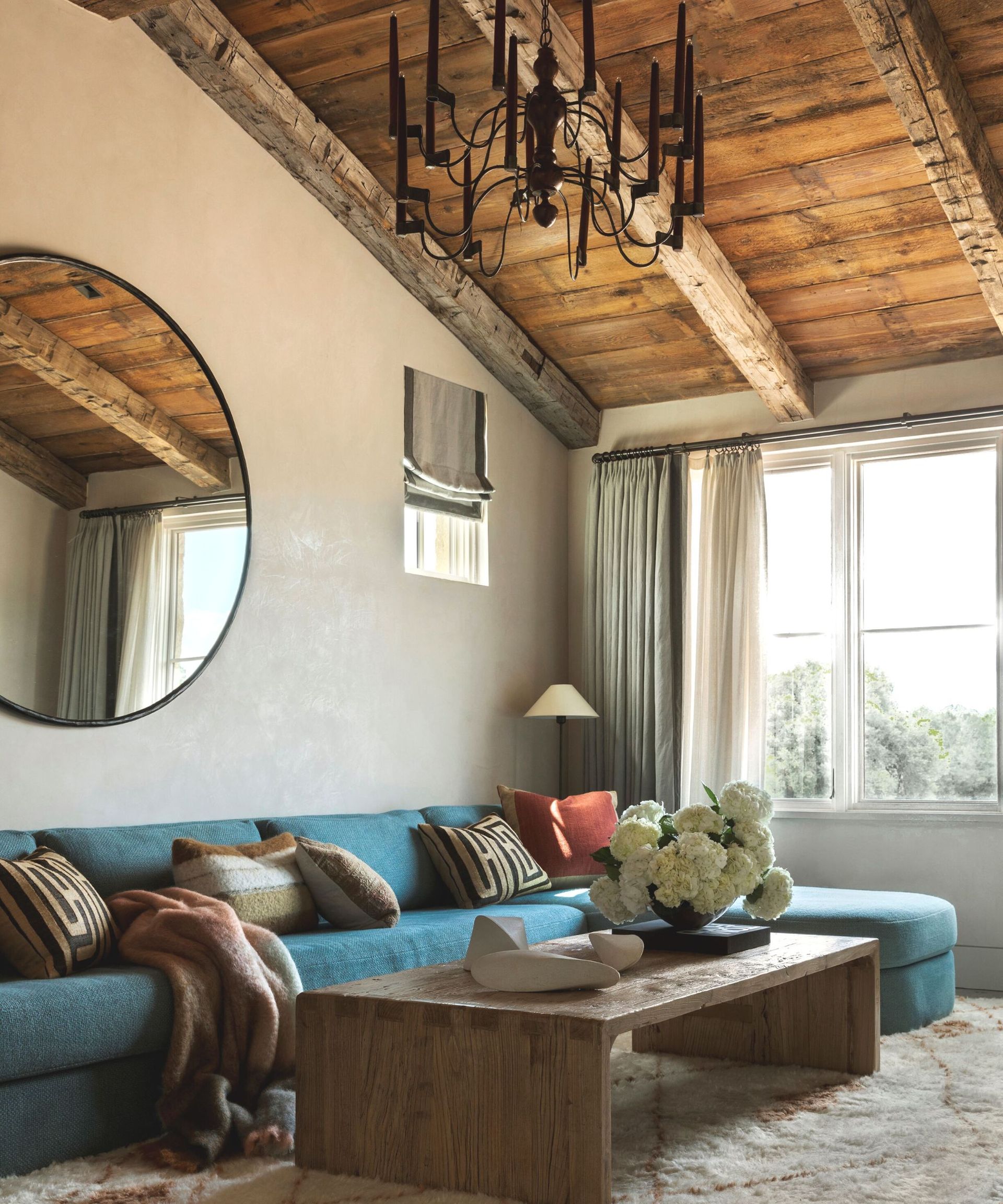 The owners wanted their guests to have a place to relax and unwind. This sitting area is layered with plush textures from the Moroccan rug to the wool throws. The chandelier with wooden candle sleeves was spotted by the designers at a Paris fleamarket on a buying trip. It was a one-of-a-kind piece that they couldn't pass it up, and here, hanging from the wood-paneled ceiling, it has surely found the perfect spot.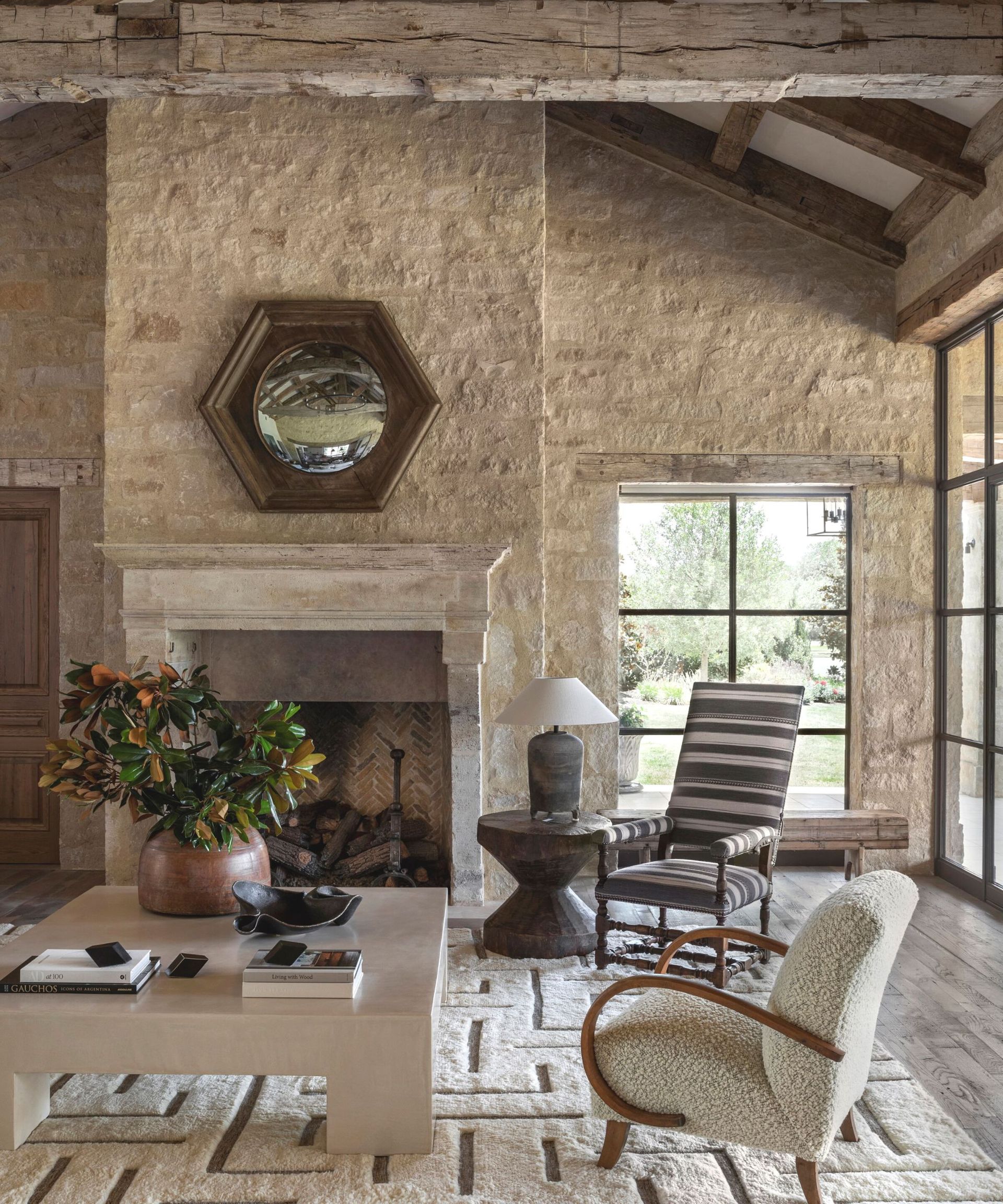 'The brief from the clients was that they wanted the living room to feel warm and inviting,' says lead designer Megan Phillips. Her living room ideas certainly achieve that, and more. Layered with the plush rug and soft textures on all the upholstery, it is a truly cozy space, even though it has an open feel. The coffee table is a sleek custom-made stone to counteract all the textures. The mirror above the fireplace was found on a buying trip in Belgium, the fireplace is from a local importer, Chateau Domingue.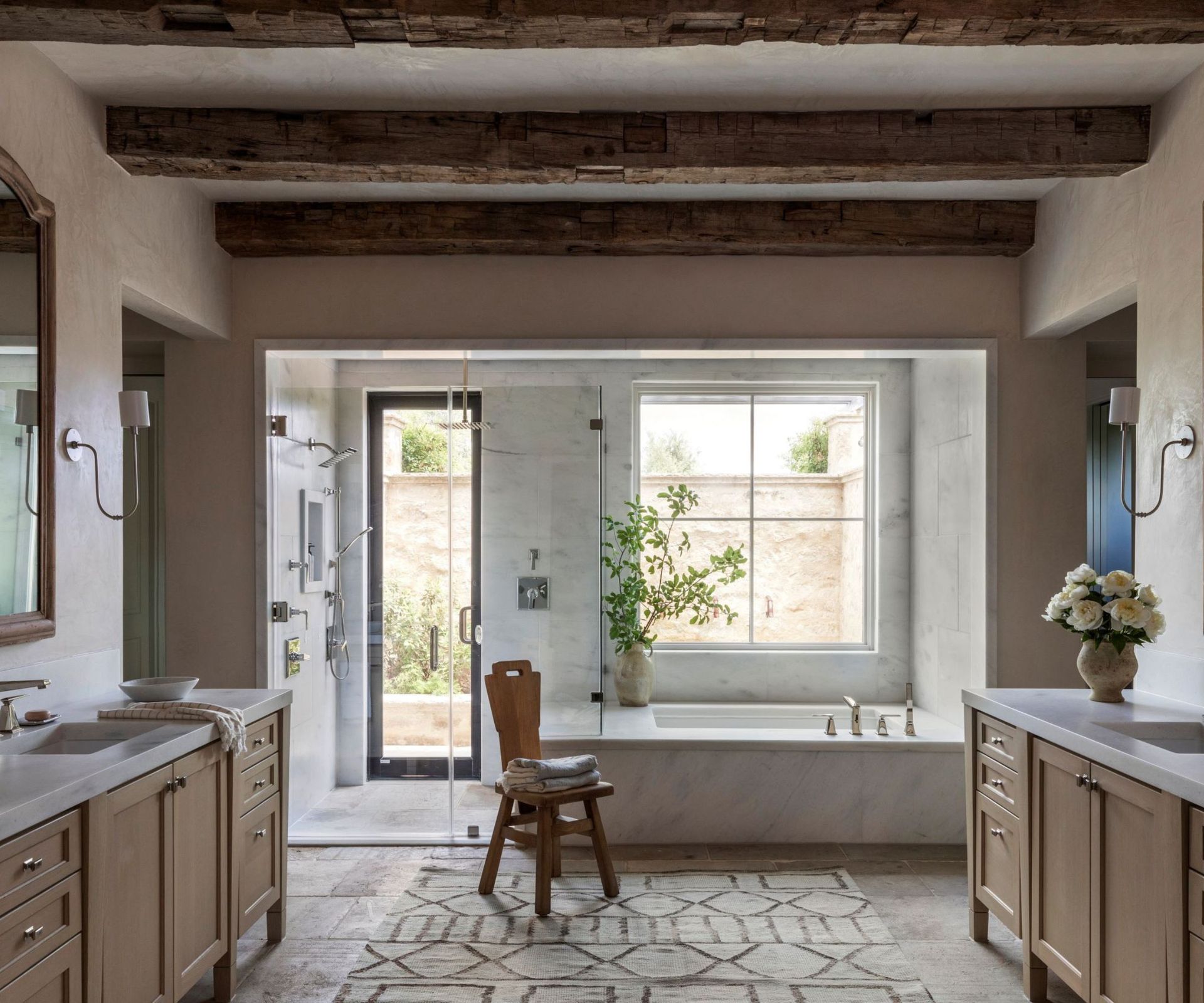 In the master bathroom, the designers wanted to draw your eye to the outside where there is a fountain and an outdoor shower. Bathroom ideas include antique reclaimed stone flooring that leads you all the way through the bathroom and continues into the shower. The tall cabinets are custom-made and based on an antique Swedish cabinet that the designer owns. Adding in freestanding storage broke up the usual built-in cabinetry, giving it an extra traditional country charm.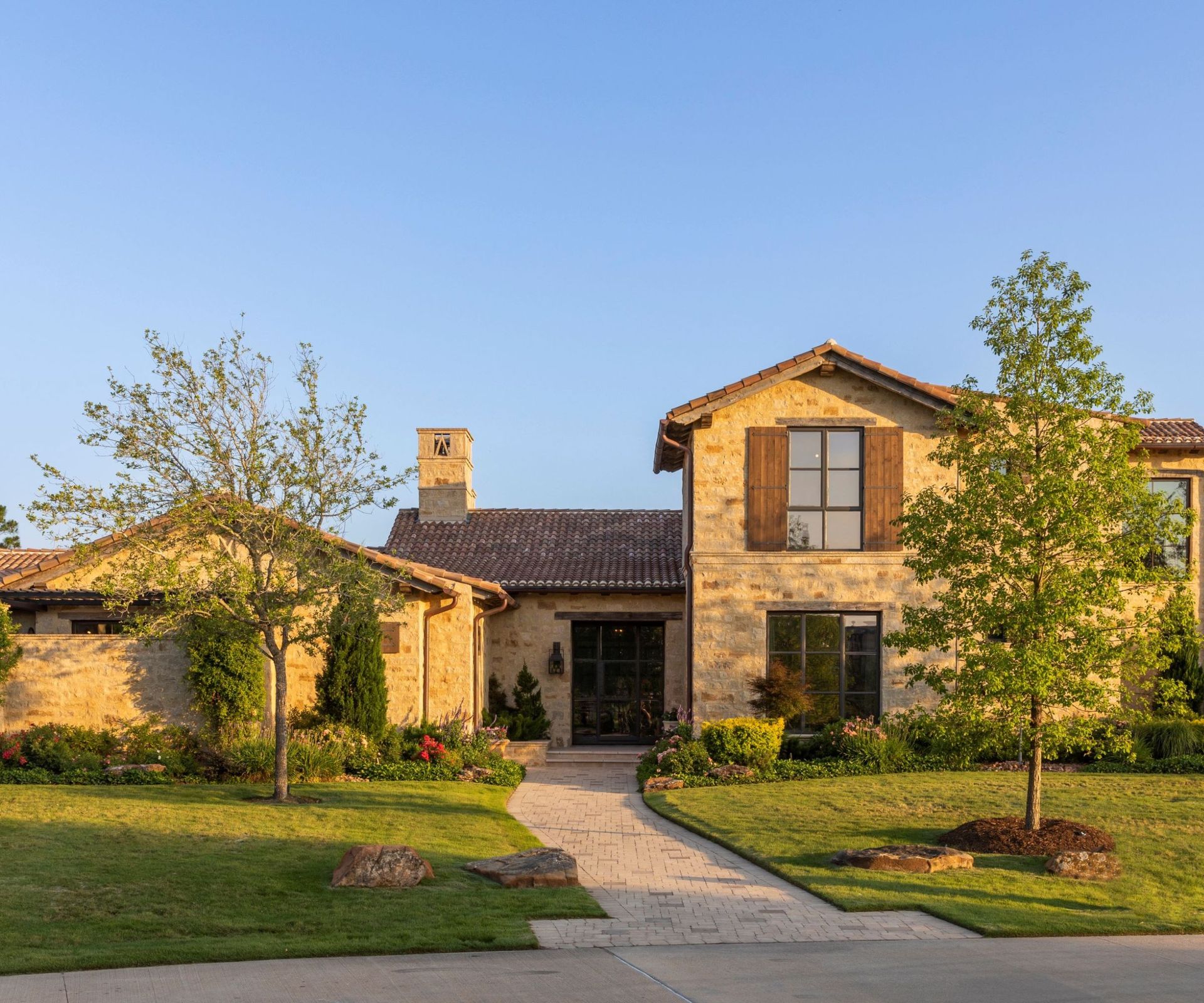 This modern farmhouse in Houston Oaks has a rustic aesthetic from the moment you set foot on the path. With its wooden shutters, honey-colored stone facade, and topped with gently pitched tiled roof, the house exterior sets the tone for the warm country welcome that awaits inside.
Architects: Ryan Street Architects
Lead designer: Megan Phillips at Eleanor Cummings Design – Instagram @eleanor_cummings_design (opens in new tab)
Builder: Byer Builders, Inc
Photographer: Julie Soefer (opens in new tab)
Stylist: Adam Fortner
Karen is the houses editor for homesandgardens.com and homes editor for the brand's sister titles, Period Living and Country Homes & Interiors, and an experienced writer on interiors and gardens. She loves visiting historic houses for Period Living and writing about rural properties for Country Homes & Interiors, and working with photographers to capture all shapes and sizes of properties. Karen began her career as a sub editor at Hi-Fi News and Record Review magazine. Her move to women's magazines came soon after, in the shape of Living magazine, which covered cookery, fashion, beauty, homes and gardening. From Living Karen moved to Ideal Home magazine, where as deputy chief sub, then chief sub, she started to really take an interest in properties, architecture, interior design and gardening.