8 stylish outdoor entertaining tips designer Henriette von Stockhausen wants us all to know
Hosting friends for lunch or dinner in the garden is an opportunity to tone down the formality but turn up the creativity – VSP Interiors' creative director explains how to get it right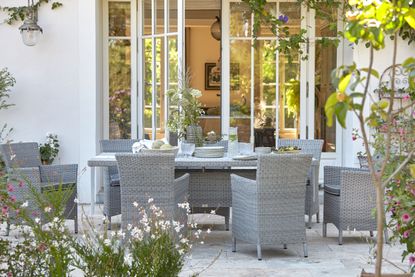 (Image credit: Domaine & Demeure)
Outdoor entertaining takes on a new dimension when the weather improves, and while we've all been forced to entertain friends and family outside more than ever before out of necessity this year, now is the time to really indulge doing so stylishly, whether you are searching for the best outdoor furniture for comfort and looks or simply looking to add stylish finishing touches to an outdoor dining table.
'Moving aside the challenges of an unpredictable climate, it's made us all re-think how to make the best out of our gardens or external spaces – and have some fun at the same time,' says interior designer Henriette von Stockhausen, co-founder of VSP Interiors (opens in new tab).
'Designers have risen to the challenge, coming up with ever more innovative ways to make the experience more enjoyable – from beautiful and supremely comfortable furniture to colorful canopies and a host of ways to keep everyone warm.'
Born in Germany and brought up in various locations around Europe, Henriette is now based in Dorset and works on country-house projects all over the US, the UK and further afield. She is known for infusing her designs with her trademark love of color, pattern and antiques. Here, she brings her expertise to outdoor entertaining.
1. Create structure around your table
'The perfect set up is to have some kind of covered area, such as a pergola or loggia, complete with a heavily scented climbing rose or pretty clematis. This means you don't have to decamp indoors if the heavens decide to open.
'We don't have such a thing at home, but I did invest several years ago in a hand-made Indian tent from the Raj Tent Club (opens in new tab). It's absolutely beautiful inside with stars on the ceiling of the canvas and you can take down all the sides leaving just the canopy remaining for warm evenings.
'If there's no existing canopy in the garden, I like to set up a table under a tree; it lends structure and height to set up and the branches of the tree almost act as an outdoor room, delineating the space. A sun umbrella would also work in lieu of a tree; I particularly like those by Barcelona-based Lobster's Day (opens in new tab) because you specify the trimmings and edgings to suit your color scheme.
'One day, I'd love to have an outdoor kitchen with a sink and a built-in barbecue. The super stylish Italian-based kitchen designers Officine Gullo (opens in new tab) have recently designed one which offers the same performance as a restaurant kitchen using marine-grade steel which can weather any storm.'
2. Invest in good quality outdoor furniture
'It's worth spending a bit more on outdoor furniture – especially when you don't have the space available to put it somewhere inside or under cover during the winter. Left out for months on end, the cheaper items will just fall apart.
'Teak is a popular material, but the downside is that the pieces tend to be very heavy. Recently, there have been huge improvements to the quality of synthetic rattan furniture. My favorite collection is by Domaine Life (opens in new tab) (see above), a diffusion line of furniture and homeware designed by the team who run a group of châteaux and wine estates in France. They are simple and elegant shapes with a finish prepared to cope with extreme weather conditions.
'If clients specify that they prefer metal garden furniture, then I often recommend they look at Hevingham Collection (opens in new tab). Custom-made in Britain, the pieces are crafted from highly durable iron with supremely comfortable cushions.
'I also love antique garden furniture and you can find some really glorious pieces for sale at auctions or online. Lorfords (opens in new tab) is always worth a look.
'Whatever is chosen, I'd always recommend using off-white cushion pads and seats (a pale grey would also work). That way, you can introduce color through decorative details and on the table without any risk of a clash.'
3. Use lots of color
'Green and pale pink are my favourite colors to use when entertaining outside. I'll always start with a tablecloths as they bring softness and texture. I like having them fall to the ground – no half-way options. My favorites are by Birdie Fortescue (opens in new tab): she has a particularly beautiful Anatolian design inspired by a pattern found Iznik tiles in her latest collection. By the same note, I'll always use linen napkins.
'Rather than having a separate set of melamine plates and special outdoor cutlery, I like using nice china, proper silver and crystal glasses – my favorite are colored ones by William Yeoward (opens in new tab). It might sound a bit decadent, but they look so pretty, and I trust my friends not to throw them around!'
4. Choose a theme
'Remember, the food you cook will add to the decorative spectacle. Pick a theme and regard it is as your friend as it will help to narrow down the choices to be made. If I'm going for a Moroccan tagine with a big couscous salad, I'll use lots of lemons on the table and bring in some colorful tealights, for example.'
5. Keep guests warm
'For cooler nights, firepits are a great idea. I went to Soho Farmhouse (opens in new tab) (in Oxfordshire, England) recently and they had a huge firepit which must have been about 7 or 8m across. I'm saving up for one but would just always be cautious about using them with young children about.
'Lay a rug under the table to stop feet from getting damp as the dew forms on the grass. Jennifer Manners (opens in new tab) has a collection which are attractive yet hard-wearing and made of recycled plastic but are as soft as wool. I also like to put blankets or throws in merino wool or cashmere on the back of chairs: Johnstons of Elgin (opens in new tab) have a lovely collection of colors and designs (see above).'
6. Light well
Smart outdoor lighting ideas can give your garden a welcoming glow as day turns to night.
'If you're sitting under a tree, string some fairy lights in the branches above – if there's no electricity socket nearby you can of course use battery-powered LED versions. I've also seen friends hang antique chandeliers with candles from a branch which creates a gorgeous and very romantic effect.
'Don't be afraid of using real candles and candelabra outside – invest in some glass barrel covers that go over the flames. I also have some alabaster bowls by Robert Kime (opens in new tab) which I put tea lights in – they add a warm glow to the table. The other light source I adore are storm lanterns and Ralph Lauren do some really pretty ones.'
7. Forage for flowers
'There's nothing better than gathering flowers from your own garden for the table. They don't have to be very grand – large bunches of cow parsley gathered from the verge look fantastic in a big jug. I also like filling up a selection of christening goblets and silver cups in different sizes with little roses or whatever is flowering in abundance.
'If we're having a dinner party that has a seating plan, I like to find different leaves from the garden and write guests' names in gold pen in lieu of name cards. But most often I keep things informal. The children help make daisy chains to add to the decoration or, if we're by the sea, I'll use some shells.'
8. Keep it simple
'Remember, there are no hard-and-fast rules to entertaining outdoors and you don't have to make it very showy.'
See: Garden party ideas – inspiration for outdoor gatherings, from family barbecues to dinner with friends
'I've always wanted to have a birthday party with an outdoor cinema screen showing an old black-and-white movie. It'd be a chance to use the collection of blankets and rugs that I've picked up from travels over the years, including Navajo Indian, Nepalese and South American designs which have wonderful tribal colors and look so cheerful dotted around the lawn with picnic baskets stocked up with food for my guests.'
Henriette studied at City & Guild of London Art Schools and gained a master's degree at Sotheby's Institute where she honed her appreciation and love for antique furniture and decorative design from 17th Century through to 20th Century. Henriette studied at the prestigious Inchbald School of Design. On graduating she gained experience with leading interior designers including Stephen Ryan who had been head of David Hicks Design. She also had a spell in theatre design which enabled her to indulge her more flamboyant side and made her realise just how much she relishes any challenge.