Breville Juice Fountain Cold Plus Juicer review
The Breville Juice Fountain Cold Plus is a centrifugal-style juicer that's ideal for making large batches of fresh juice.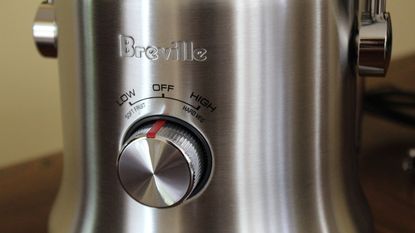 (Image credit: Future)
Reasons to buy
+

Works quickly

+

Large feeding chute

+

Multiple speed settings

+

Extra large capacity

+

Jug strains off foam

+

Dishwasher-safe components
Reasons to avoid
-

Bulky to store

-

Oversized for individual use
Why you can trust Homes & Gardens Our expert reviewers spend hours testing and comparing products and services so you can choose the best for you. Find out more about how we test.
There's nothing more refreshing – and nutritious – than a cold glass of freshly made juice, but instead of buying it from the store, you can quickly and easily make it at home with the help of a juicer like the Breville Juice Fountain Cold Plus. This centrifugal-style juicer can handle virtually any ingredient, from fruits like apples and strawberries to vegetables including carrots, spinach, and celery, and it works extremely quickly thanks to its high speed blades.
This juicer stands apart from the rest thanks to its extra-large juicing capacity. It comes with a 70-ounce jug that seals tightly, allowing you to store juice for up to days, and it has a large chute that can accommodate whole ingredients to minimize prep. However, we wanted to know if it's one of the best juicers available, so we tested it alongside several other popular models.
I used the Breville Juice Fountain Cold Plus for two weeks, using the appliance to make a variety of juice recipes. Overall, I was impressed with its fast performance and thoughtful design, but the bulky size may be a deal-breaker for those with smaller homes.
Breville Juice Fountain Cold Plus: Specs
Type: Centrifugal juicer
Materials: Stainless-steel housing, titanium-reinforced cutting disk, mesh filter, stainless-steel juicing basket
Dimensions: 8.6 x 13.1 x 17.6 in.
Cord Length: 36 in.
Weight: 13.7 lb.
Power: 1000 watts
Jug Capacity: 70 fl. Oz.
RPM: 6,500 or 13,000
Unboxing
The Breville Juice Fountain Cold Plus arrived in a sturdy, attractive box, and the appliance was packaged carefully inside two pieces of molded cardboard. After sliding the cardboard out, I found that all the various components of the juicer were wrapped in an additional layer of thin plastic. This is fairly standard packaging for most small appliances.
My first impression of the Juice Fountain Cold Plus is that it's very large. The base and juicing components are roughly the size of a food processor, and then there's the pulp container and 70-ounce jug juice. Plus, the base is quite heavy and may be hard for those with mobility problems to move. To date, it's one of the largest juicers I've tested, and it definitely took up quite a bit of counter space. Additionally, the pieces don't nest nicely together, so the appliance is equally bulky to store.
It took me a little trial and error to figure out how the pieces of the Juice Fountain fit together. The pulp bin is designed to be slipped under the lower lip of the base, and the juicer's power cord can then be threaded out underneath the plastic container. The lid of the appliance fits over the pulp bin and juicing mechanism, and there's a thick metal hoop that holds everything into place. There's also a silicone nozzle that you can place on the spout where the juice comes out, but it's designed to be used when juicing directly into a glass – I figured this out the hard way after trying to set it up to dispense into the juice jug.
Pineapple, apple and strawberries
The first time I used the Breville Juice Fountain, I decided to make one of my favorite juice combinations: pineapple, apple and strawberries. (It's strawberry season currently, so I have an abundance of homegrown fruit in my fridge at all times.) I hulled the strawberries and cored the apples, and I cut the pineapple into chunks that would fit into the juicer's 3.5-inch feeding chute.
This juicer has two settings – low is for soft fruit and high is for hard vegetables. I used the low setting for this test, as none of the fruit I was processing was too hard. When I fed the first few pieces of apple into the juicer and turned on the machine, I was surprised at how quickly and aggressively it shreds the ingredients. This is a centrifugal juicer, which means it has a cutting disc with sharp blades that spin at 6,500 RPM (on low), cutting up the ingredients into fine pieces and sending the juice through a mesh strainer surrounding the blade. It works much faster than masticating juicers like the Hurom HP Slow Juicer (opens in new tab), which have a larger auger that slowly crushes produce to extract the juice, and Breville claims it still avoids heating up the ingredients to preserve as many nutrients as possible.
Even on the low setting, it took me less than two minutes to juice all the fruit I had prepared. That is a lot faster than the best cold press juicer you can buy. I will say that it's important to slowly press your ingredients into the spinning blade with the pusher. I made the mistake of using too much pressure, and several of the strawberries shot out into the pulp bin before they were totally shredded.
During my first juicing session, I found that an individual serving of juice barely filled the bottom of the appliance's 70-ounce jug, and there was quite a bit of foam on top. However, thanks to the jug's smart design, there's a lip that strains the foam off when you pour the liquid out, leaving you with a foam-free glass of fresh juice.
Jam jar recipe
The next time I used the Breville juicer, I tried out a recipe from the brand's website. It's called Jam Jar (opens in new tab), and it includes rhubarb, zucchini, cucumber, and red apple. I peeled the zucchini and cucumber per the instructions, but I decided to just put the apple in whole to see how the unit handled it.
This time, I decided to use the juicer's silicone nozzle to dispense the juice directly into a glass since I was only making a single serving. I pointed the nozzle downward and it fit perfectly over a mason jar-style glass. I used the unit's slow setting for the cucumber and zucchini, which the juicer shredded up in a matter of seconds, and then I turned the machine onto high for the rhubarb and apple. I did have to press harder to get the apple shredded, but it worked just fine and saved me some prepwork! Once all the ingredients were juiced, I decided to add in a handful of strawberries to give the juice a redder color like it had in the picture.
In terms of noise level, this juicer is fairly noisy, especially on the high setting. It tends to rev for a second or two when you first turn it on, then it evens out to a whirring sound. I'd compare the noise to a handheld vacuum – not so loud that it would bother you from across the house, but you'd have to raise your voice to speak over it.
Because I dispensed my juice directly into a glass for this recipe, there wasn't any way to get rid of the foam on top. I scooped a little off with a spoon and ultimately opted to stir the rest in. I did like that I was able to simply turn the nozzle to face up to stop it from dripping on the counter. Overall, this juice recipe was very bland and didn't taste much. The juicer handled all the ingredients like a pro, but I wouldn't use this combination of ingredients again.
Apple, lemon, carrots and spinach
Finally, I wanted to try a recipe that included some hard ingredients like carrots, and I found one that used apple, lemon, carrots, spinach, and ginger. I did core the apple and peel the carrots, but I decided it would just be easier to put the lemon in without trying to peel it.
By this point, I had perfected the technique of very slow, gentle pushing, which helps to ensure as much juice as possible is extracted from the pulp. If you press too quickly, the ingredients get shoved into the pulp collector while they're still a bit wet. I was really impressed at how much juice the unit managed to extract from the carrots at high speed – they're not an ingredient you think will have a lot of juice, but it's a substantial amount and the pulp came out very dry.
The spinach was a little tricky to juice since it was too small to be pressed with the pusher, so I put a handful in with a piece of apple on top. This worked well, and there were only a few pieces that didn't get shredded. The juicer also had no problem grinding up the lemon with its peel – good to know for those times you don't feel like doing much prep. The resulting juice certainly wasn't the prettiest color – it was a greenish brown – but it tasted great, and I would definitely make it again.
While making this recipe, I learned that it's important to put the lid on the jug if you're not using the silicone nozzle. The juice came out of the spigot so fast that it splattered out of the container, forcing me to stop and cover it before proceeding. However, I loved that I was able to save my extra juice right inside the jar, thanks to its tight-sealing lid. I put it in the fridge, and it tasted just as good the next morning.
Cleaning
One of the major downsides of most juicers is that they have to be hand-washed, so I was thrilled to find that almost all the pieces of the Breville Juice Fountain Cold Plus can be put in the dishwasher. The only removable component that should be washed by hand is the pusher, which doesn't get that dirty to begin with.
The caveat here is that because the components of the juicer are so large, they take up quite a bit of room in your dishwasher. I found that the pulp and juice jars, as well as the lid, fit best on the lower rack, and they took up around half the available space in my full-size dishwasher. Because they take up so much room, I often found it easier to simply rinse out the two plastic jars after use and give them a quick wipe with some soap and water. Then, I would generally put the lid and cutting disc in the dishwasher for a more thorough clean.
Should you buy the Breville Juice Fountain Cold Plus?
The Breville Juice Fountain Cold Plus retails for around $280, but you can often find it for less thanks to frequent sales. This is an extremely reasonable price for a juicer, especially one that has a high-end appearance and makes quick work of virtually any ingredients. It's also ideal for making large quantities of juice, as it has a 70-ounce juice jug with a tight-sealing lid, allowing you to store extra juice for a few days.
The one major downside of this juicer is its size. It takes up a lot of space on your counter during use, and there's no easy way to store all its pieces. For this reason, it's best for those who are planning to make big batches of juice – otherwise, you might be better off with a smaller model, such as the Nutribullet Juicer Pro (opens in new tab).
About this review, and the reviewer
Camryn Rabideau is a freelance writer and product reviewer who has been testing small kitchen appliances (as well as other home goods) for several years. She's tested everything from toasters to oil infusion machines, and she recently fell in love with juicing, as it's a great way to use up the extra produce she grows on her farm while sneaking more vitamins into her diet.
Camryn does her product testing from her small homestead in beautiful Rhode Island. When she's not tinkering around with the latest home gadgets, she spends her time tending to her animals, working in her garden, or crafting.
Contributing Reviews Editor
Camryn Rabideau is a writer and product reviewer specializing in home, kitchen, and pet products. In her five years as a product tester, she's tested hundreds of items first-hand, including many, many kitchen appliances for Homes & Gardens. Camryn does her product testing from her small homestead in beautiful Rhode Island.