11 common types of bathtubs – and their pros and cons
Don't order your new tub without first understanding the bathtub styles available and which will suit you and your space best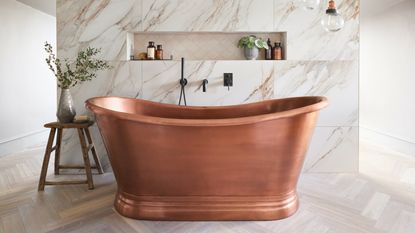 (Image credit: BC Designs)
If you're envisaging your dream bathroom, no doubt the type of bathtub you desire is at the forefront of your mind. And so it should be – it's possibly the biggest design decision you are likely to make and one that will heavily influence the bathroom's overall look. It needs to be practical, as well as potentially show-stopping.
Any bath idea has the potential to make a statement – even a humble alcove bathtub can become a feature when clad with feature tiles or glamorous marble. That said, statement freestanding baths made from copper, cast iron, and composite resin are built to impress – and their desirability has soared in recent years.
Whatever the design or material, to get the most from your investment it's essential to give the bathtub enough room to breathe. The size of bath you choose should be scaled according to the space, allowing ample room between it and other fittings, even if it is set against a wall. 'To get the full effect of a statement bath, you want to see it from as many angles as possible, and the whole room should feel spacious,' says Drummond Shaw of Drummonds.
The bath you choose will also determine what type of taps can go with it. Some designs have holes ready for single or mixer taps, but for others, you will need to source wall-mounted or free-standing taps. Check if you need to buy wastes, overflows and feet separately, too.
Most baths are built to last so invest in the best you can afford, as it's likely to make it through many future decorating projects. Here are your options...
1. Slipper
The traditional Victorian slipper bath, which is higher at one end, is ideal for a look of classic elegance. And while now it's seen as a more indulgent style of tub, it has humble beginnings...
'The first slipper baths began life in Victorian washhouses and bathhouses,' says Barrie Cutchie, Design Director at BC Designs (opens in new tab). 'At this time, diseases were rife amongst the population and experts at the time tried to control them by telling the public to clean and bathe regularly. However, unless you were rich, homes did not have their own bath tub – if people bathed, it would be in a small tub that they placed in front of the fire. The solution was the slipper bath.'
But why the shape? 'The higher curved end of the bath was originally designed to give the bather extra privacy,' Barrie explains. 'The deeper end of the bath also allows the user to relax in more water, while the taps at the shallow end are out of the way. Users also draped towels across the shallower end to protect their modesty, making them look just like slippers.'
'These days, the shape of the bath helps to keep hot water hotter for longer – perfect for today's homes where the bath is often less of a means of keeping clean and more of a relaxation activity.' It's a good choice if you like to sit upright in a bath to read, offering more back support, but not so comfortable for those who like to truly lie in a bath.
Slipper style designs are now available in a range of bathtub materials. Acrylic is affordable, and cast iron is the traditionalist's choice. This model, formed from Victoria + Albert's Quarrycast volcanic limestone composite stone, represents a new breed of bath that's extremely durable yet much lighter than cast iron.
2. Bateau bath
Also known as a boat bath, a bateau bath is a tub with two high curved ends that dip in the middle. Classic bateau baths often sit on a plinth that flares out at the bottom, though more contemporary styles don't always feature this tapering.
'The bateau bath also has an interesting history,' says Barrie Cutchie, Design Director at BC Designs. 'Its design was first credited to a French designer and manufacturer, Joseph Delafon. First sold in the mid-19th century, the baths were essentially a statement of status as lower classes didn't have access to domestic bathrooms in the sense that we understand them today. Unlike the slipper bath, the bateau bath was installed in the homes of the upper classes.'
'The first bateau baths were made out of cast iron. These days, we'd find them very heavy for the way our homes were built, but back then, houses were designed with this in mind. More often than not, they would rest on expensive marble foundations… but just as we've mentioned already, the bateau bath was only for the very wealthy, and so this wasn't a problem.'
Because of its two high ends, the bateau is a great bathtub for two, so worth considering as a master bedroom idea with a bath. However, you will be limited to placing your faucets at the center of the bath, at its lowest point.
3. Clawfoot, roll-top bathtub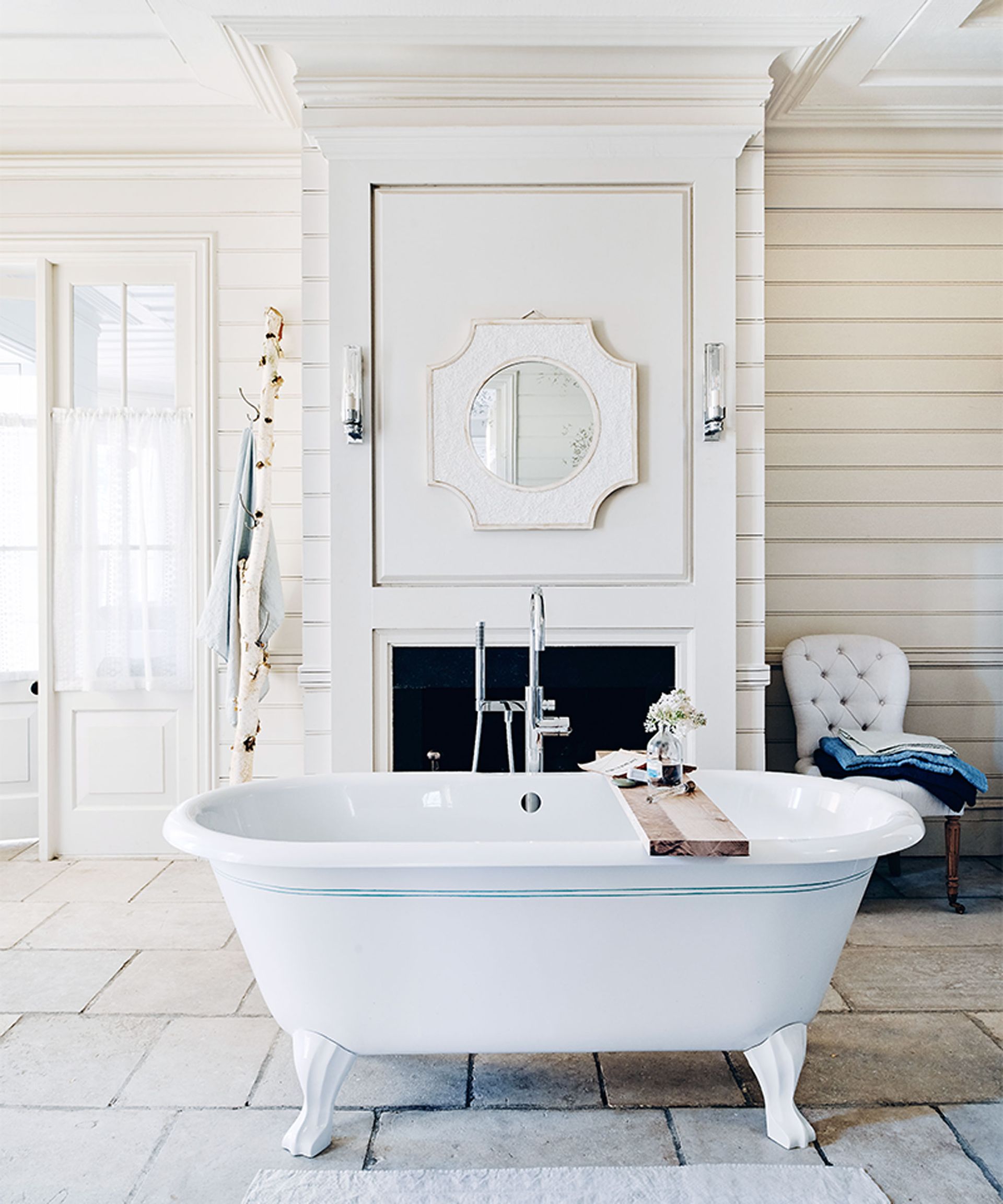 'As bathrooms became more popular, and filtered down to the middle classes, the classic roll-top bath was born,' says Barrie Cutchie. 'It would often be single-ended with a ball and claw cast iron feet. They could be anything between five and eight feet in length either parallel-sided or tapered like a coffin in shape. The larger ones could have shower attachments and were known as plunger or canopy baths.'
These days, roll tops are equally popular as single-ended designs that can sit against a wall with a shower above, or as freestanding double-ended designs. You'll find models made from almost all bathtub materials.
Do consider that rolltop baths mounted on feet will show more of your bathroom flooring. This enhances the feeling of space, but you will need to keep the area beneath clean, so access will be important.
4. Contemporary freestanding
Contemporary in appearance and using the latest materials, these baths are designed to make a statement. They are intended to be positioned away from walls – a central location has extra glamor and can boost the room's sense of proportion.
'Symmetry and balance are key to creating an elegant, serene interior,' says Lucy Powell of Bathrooms.com. 'Installing a really eye-catching bath in the middle of the room will provide a central axis that works as a natural focal point.'
'These designs are synonymous with luxury and clients love the promise of a spacious bathing experience,' adds Joy Chesterton of Ripples.
Innovations in manufacturing have led to sleek oval baths made from complex composite materials that work very well in modern bathrooms, but can equally create contrast in a traditional room, as seen in this example from Waters Baths of Ashbourne (opens in new tab).
5. Compact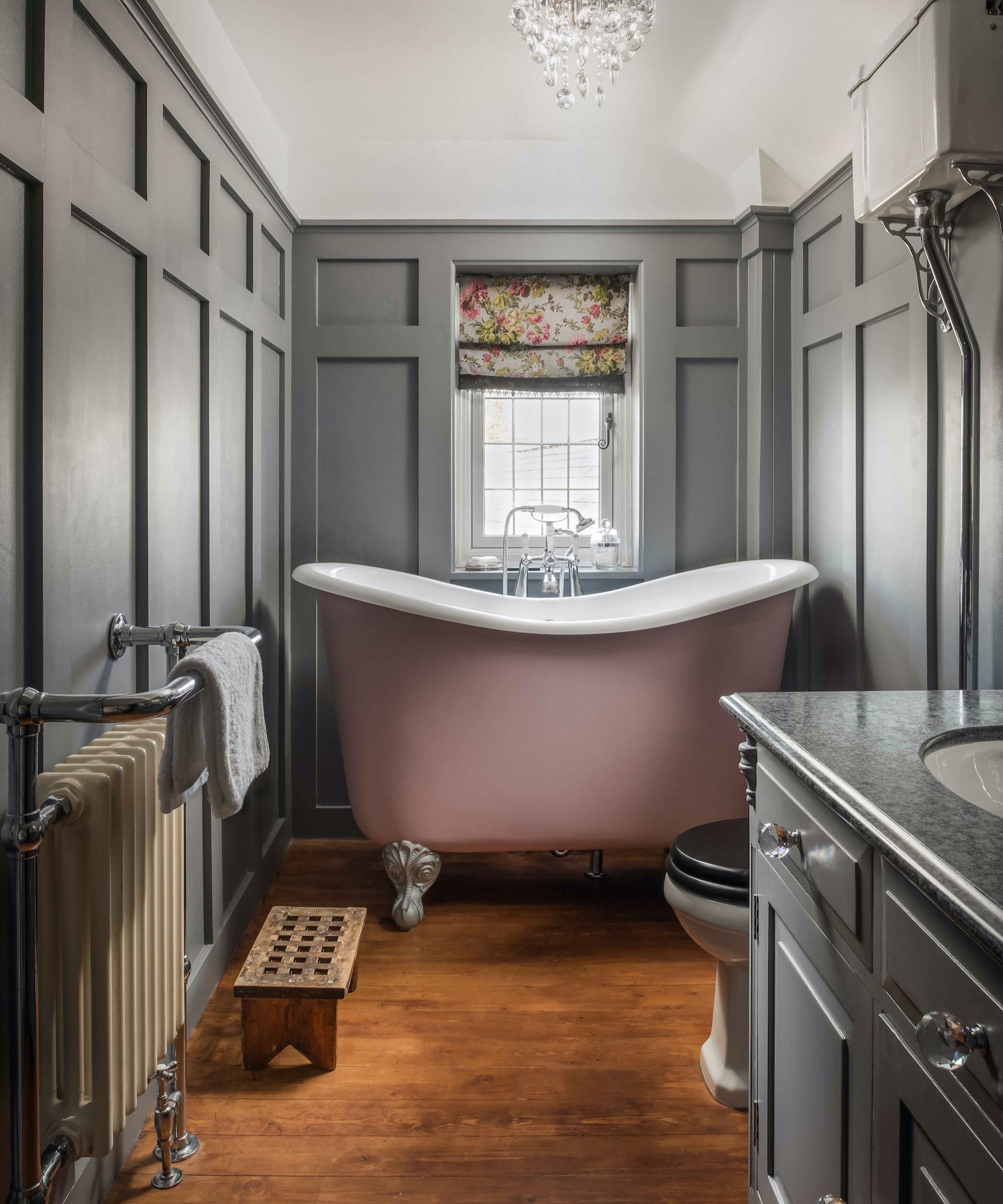 According to Badeloft (opens in new tab), a US supplier of luxury bathrooms, a standard bath measures 60in long (5ft) by 30in wide (2.5ft). Anything smaller is classified as compact or space-saving. Popular compact dimensions include 150x75cm and 160x70cm.
In a small bathroom, a compact bathtub is a solution that can look every bit as impressive as its full-size equivalent, while costing that little bit less. Models that fit flush to the wall, or tight into the corner, will, of course, take up less floor space but you can also buy mini-me versions of designer freestanding baths that are great for creating impact.
Compact baths are typically aimed at bathrooms that simply cannot squeeze in a standard tub. But they are not just for seriously small rooms. Reducing your bath's length by a few inches can make a big impact on your bathroom's layout. For example, going small-scale with your tub could also allow a more spacious shower or double basin unit.
Of course, there is one downside to a compact bathtub – if you're tall, you'll need to bend your knees higher than usual to relax, which might not be all that relaxing...
6. Walk-in
Designed for those that struggle to clamber in and out of a bathtub, walk-in baths feature a watertight door that allows the user to walk straight into the bath. It can then be filled with water and will need to drain before you can step out. This, of course, means you need to be careful to get the temperature right the first time – although most walk-in baths have thermostatic controlled mixers to ensure a stable temperature. It can also leave you at risk of catching a chill if the bath drains slowly.
If you do choose this option, look for a model with a heated seat to keep you warm during the filling and draining stages, and with a 'quick drain' feature. Walk-in baths generally come in two styles – full length for traditional bathing, and shorter baths with seats for ease of access, but most bathroom designers would suggest a walk-in shower or wet room idea with a shower bench instead.
'Personally, I am not a fan,' admits Ripples' (opens in new tab) Senior Designer Jo Sangster. 'While they're great for getting in and out of, the seal may not last on the door, the door could then not close properly and the bath could leak. The main downside for me is that you have to sit in the bath waiting for the water to fill and then sit waiting for it to drain away whilst you are wet and cold – not pleasant!'
7. Alcove/inset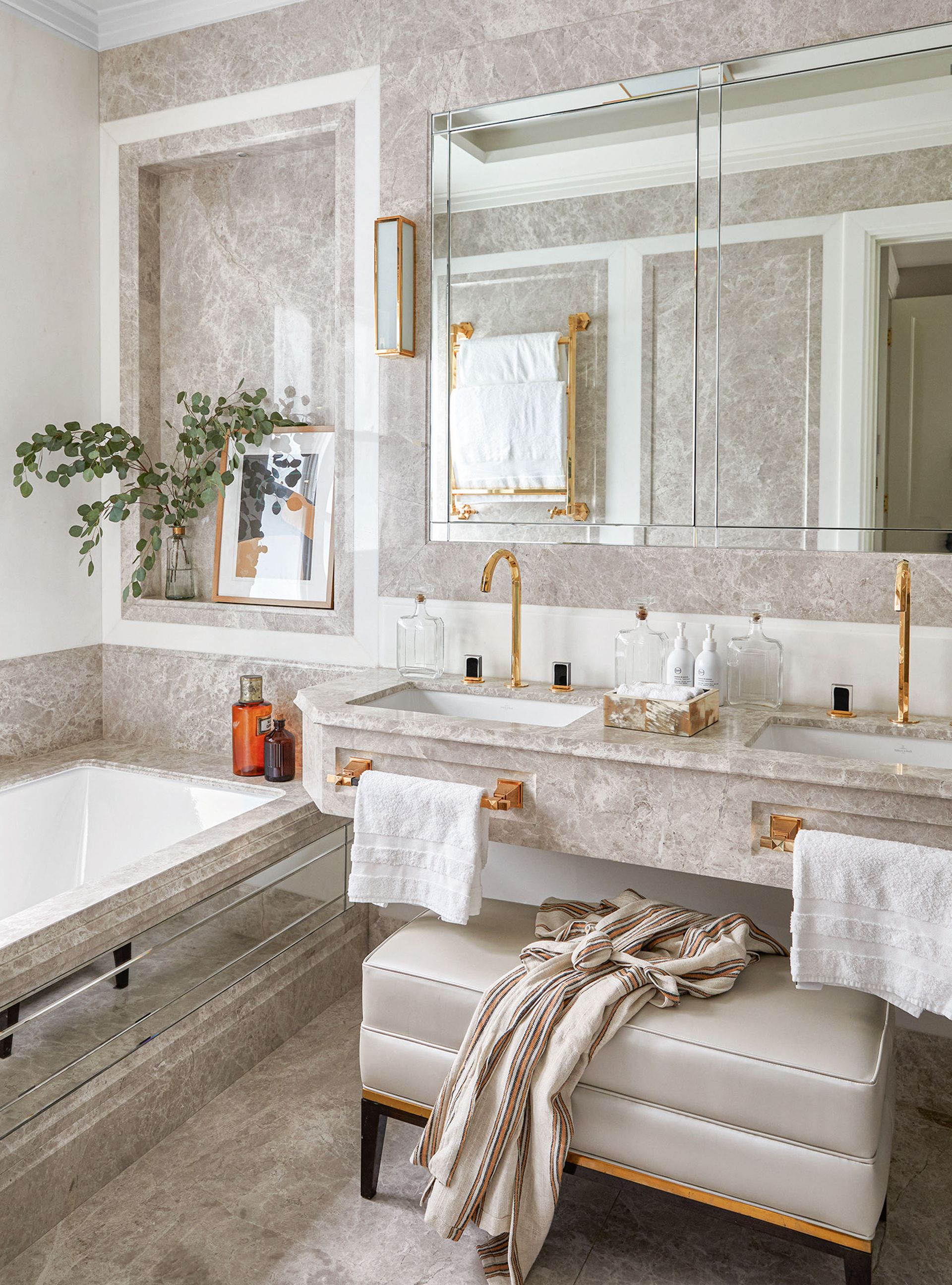 Inset and alcove bathtubs are literally a great fit for smaller bathrooms. Designed to sit within an alcove or up against walls, they require paneling to one, two, or three sides, but are generally easier to install and can be given a luxury bathroom feel – clad in stone, mirror, or flat contemporary panels of teak to suit your look.
'Standard built-in baths within an alcove are great for most people,' says Jo Sangster. 'There are many affordable options on the market to suit different-sized spaces, and they can easily be jazzed up with alcoves for products, lighting, etc.'
8. Drop in
Drop-in baths are similar to inset baths, but their edging is designed in such a way that they will look smarter when a surround is created on all four sides.
'These can work well if you are having a stone surround to your bath and offer a slightly more traditional, grand look,' explains Jo Sangster. 'If you like to surround yourself with products, candles, a glass of wine and a good book when you're in the bath, they allow you to create a decent display ledge all around the bathtub. However, this can take up more space and normally the stone panels and "countertop" will need templating, which can be costly.'
9. Sunken baths
A sunken bath is a perfect solution if your bathroom lacks ceiling 
height but you're determined to have a luxurious bathing experience. Usually associated with spa retreats and boutique hotels, it can add 
a touch of luxury and create impact at home, too.
As it takes up less space and doesn't obstruct sightlines or windows, a sunken bath will make a small bathroom feel bigger. And sinking a bath can provide extra head height for showering in low-ceilinged or awkward-shaped rooms.
'Choose a bath with built-in support to maintain its structure. Alternatively, a concrete or metal frame can be added,' suggests Claire Gay, sector marketing manager at Roca. This help carries the load and ensures your tub won't flex.
A sunken bath sitting flush to the floor is a major undertaking. Far easier is partially sinking your tub, which still allows access for waste maintenance. Go as low as the void between your floor joists allows – a structural engineer can say if they offer sufficient support – but leave access for pipe repairs. A qualified plumber should connect the water and drainage, and ensure it all complies with building regulations.
10. Whirlpool
A whirlpool bath is essentially a bathtub with jets that massage and soothe while you are submerged in water. The jets can be set at different strengths and aimed at 'problem areas' such as the back and legs, relieving aches and pains, drawing out toxins, reducing stress and aiding sleep. This makes for a great spa bathroom idea.
'A whirlpool bath is a fantastic option if you are going to use it,' says Jo Sangster. 'Whirlpool jets can be fitted to a lot of different baths, though mostly enameled steel or acrylic options. They are more popular in built-in baths but can be found within a few freestanding options. Different jets are available depending on your needs, and lighting can also be included to really enhance the experience.'
Jo does have some caveats, though. 'A whirlpool bath will need maintenance and is best for use on a regular basis rather than once or twice a year, as you will have to keep cleaning out any water left within the pipes.'
For this reason, we'd recommend checking how easy the jets are to clean out before you buy, and also assess their position and any pump noise.
11. Traditional corner
Corner bathtubs used to be a popular option for small or awkwardly shaped bathrooms, though they can be uncomfortable if you are tall, and have fallen out of favor with designers.
'Not something that is popular these days, a corner bath can take up a lot more room within a bathroom than people expect, therefore they are not a space saver,' says Ripples' Jo Sangster. 'They create more of a dated look that bathroom designers are moving away from.'
12. Corner set
Corner-set bathtubs are a relatively new concept – a hybrid of a corner, contemporary freestanding and inset bath, which has quickly usurped traditional corner baths in terms of popularity.
'Often a corner bath means that you will be facing into the corner,' says Lee Frost, Director, Waters Baths of Ashbourne. 'So whilst you may save on space, the overall enjoyment of taking a bath may be compromised.'
'We were mindful of this fact when designing our corner-set baths. Ours are double-ended and available in both left and right-hand options. Sculpted to fit the body, the smooth contours of the bath edge are contrasted with the angles of the corner setting, giving it the luxurious and contemporary aesthetic of a freestanding bath. Plus, there's a handy ledge to hold a scented candle or possibly a glass of wine!'
13. Shower bathtubs
Shower bathtubs are a great way of bringing functionality into a smaller space, by combining a bath and screened shower area in one. Traditionally available in L-shaped, P-shaped and standard rectangular designs, shower baths can also take the form of roll-top and corner-set baths.
'Perfect for the more bijou bathroom, our Flow, Ebb, and Mini Ebb shower bath hybrids deliver the luxury bathing of a freestanding with the versatility of a shower,' says Lee Frost.
'Personally, we avoid P-shaped shower baths, as they take up a lot of space unnecessarily, look dated and limit the options of the bath screen,' admits senior designer Jo Sangster. 'Instead, we opt for an enameled steel or acrylic bath designed to be showered over. This would be a single-ended bath to ensure you have a flat surface to stand on.'
The one thing you should always do before choosing a bathtub
Before you buy your bathtub, you should always sit in it to test it out – not doing so is a common bathroom design mistake. Choose the shape based on comfort, and do a dry test, fully clothed, in a showroom if possible.
'Even if you love the look of a bath, you will never fully enjoy using it if you find it uncomfortable,' says James Lentaigne, Creative Director, Drummonds. 'How do you usually bathe? Different shapes suit different positions, some baths are better for sitting upright/reading a book and others have curved sides for you to lie back into. Don't be shy to climb into a bath in a showroom and try it out for comfort.'
Aim for a good width at shoulder level so you can sink down and keep your torso warm. Or if you prefer to sit in a bath with your elbows resting on the rim, rather than reclining, try that, too. It may sound odd, but if you read in the bath, you'll understand. 'For the best soak make sure your bathtub offers full submersion – the water should cover your shoulders,' says Homes & Gardens dditor-in-cheif Lucy Searle.
How do I maximize the impact of my bathtub?
There are several design devices you can use to draw attention to your tub. If it's positioned near a wall, you could highlight it with striking wall tiles or paneling. in the case of a colorful tub, you could consider choosing a contrasting shade – for example, a rose pink tub against dark gray paneling or a copper tub against grey-green tiles. For freestanding baths, use striking flooring, or create a different flooring 'zone' for the bathtub that contrasts with the rest of the space.
You could even raise the bath on a plinth, though that might become a trip hazard/make getting in and out of the bath less convenient.
Another practical way to highlight your bathtub is with bathroom lighting – for example, recessed LED uplights (rated IP67 for use near water) around the bath's perimeter. A designer faucet will also enhance the look of your tub.
Finally, if you are lucky enough to have a floor-to-ceiling window, you could place your bath beside it to recreate the opulence of an indoor pool.
Editor-in-Chief, Homes Audience
Amy Cutmore is Editor-in-Chief, Audience, across Future's Homes portfolio. A homes and interiors journalist of 20 years standing, she has spent much of that time writing about technology, appliances and kitchens. While other people count how many countries they've visited, Amy tots up how many countries' washing machine factories she's toured (it's eight by the way, from South Korea to Slovenia). She can't leave the house without a decent pair of noise-cancelling headphones, and is always ready to explain an acronym – be it QLED, DAB or HDMI.
With contributions from