5 bathroom heating options, and our expert advice on which is best for you
Having a warm bathroom is one of life's little luxuries, because there's nothing worse than stepping into a freezing cold room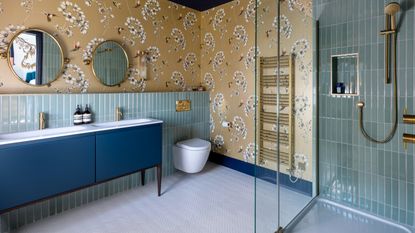 (Image credit: Heidi Marfitt for AMC Design)
Bathrooms don't exactly have a reputation for being 'cozy' spaces, but that doesn't mean they can't be. The right bathroom heating options will ensure that stepping out of the shower needn't be a shock to the system, and night time trips won't be feared due to a cold floor.
'There are plenty of innovative and inexpensive bathroom wall and floor options to keep your space warm without breaking the bank,' says James Harrison Founder of Harrison Bathrooms (opens in new tab).
'Whilst underfloor heating is a keen choice for those with higher budgets, the right radiator can make a room. Choosing the right design can also help. A traditional towel rail is an affordable option with the added luxury spa feel of warm towels, but there are other alternatives. Space saving is crucial for a lot of bathroom designs so a slimline radiator can add warmth without being domineering.'
Your bathroom heating options, explained
Here, we go through all your bathroom heating choices, and touch on ways that you can make a bathroom warmer, without investing in 'active' heating solutions.
1. Column radiators
The most traditional and familiar home heating type for a bathroom is a classic column radiator. These will typically connect to your central heating system and heat the room through a series of water-fitted columns. They give off a lot of heat, but are typically bulkier than other bathroom heating options.
That said, there are designs that will work in small bathrooms. 'Don't dismiss radiators if they seem to be taking up too much wall space,' says Nick Duggan, director at The Radiator Centre (opens in new tab). 'Constant developments are such that they are getting smaller and taking up less and less space. Verticals, fitted in to the smallest of corners, are also becoming an efficient means of using up underutilized wall space.
2. Panel radiators
For a contemporary look, a flat-panel radiator gives a sleek finish to any room. Available in a wide range of sizes, and in horizontal or vertical configurations, the slimmer profile of a flat-panel radiator won't eat into your space in the same way that a column radiator would. Yet they still give off a huge amount of heat, and are capable of heating any size of bathroom.
Most are manufactured from steel and your color choices are almost limitless. Panel radiators can even incorporate features like bathroom mirrors, so you can squeeze multiple elements into one wall space.
3. Heated towel rails
It can be hard to tear yourself away from a warm and powerful shower, particularly on a cold day, but the promise of a cozy towel waiting just beyond your cubicle is enough to tempt this particular writer. Towel radiators are designed to make sure that your towels are appropriately warm and snug, and will keep your whole bathroom heated, too. 'Although, if size permits, we would also recommend an actual radiator in your bathroom in addition to a towel rail,' says Nick Duggan.
'While traditional, vertical towel rails are still a popular choice, long, low designs are a great solution for anyone with a smaller bathroom as they can fit in areas which would otherwise be dead space, such as above the bath,' Nick continues.
In terms of finish, Nick advises against chrome: 'It doesn't emit heat as efficiently as colored or matt finishes. In fact, chrome plated radiators can give out up to 20% less heat than painted options. Another thing to keep in mind is that the bigger the bars, the better the heat output. Designs which separate the towel from the radiator section are also great options, as these heat the room more effectively.'
However, Nick touches on an important point – and that is the sheer number of colors to choose from when it comes to towel radiators. In this beautiful scheme by AMC Design (opens in new tab), founder Ann Marie Cousins has chosen an opulent gold rail that blends in seamlessly with the equally glamorous wallpaper.
4. Underfloor heating (UFH)
UFH can be an incredibly efficient and cost-effective system for the home, with very little maintenance needed overall. In terms of which type of heating is cheapest to run, according to heating experts Wunda, 'UFH costs on average 25% less to run than radiators'. There are even more savings to be made when used in conjunction with a smart heating system that can zone your UFH, room by room.
'In a new build or total bathroom remodel, installing underfloor heating is relatively straight forward as it can be added in before the final flooring/scree level goes in,' says Nick Duggan, director at The Radiator Centre. 'It will also be suitably insulated beneath to help energy efficiency. However, retrofitting UFH to an existing floor can prove costly, messy and time consuming as you might need to dig up the floor.'
Electric UFH systems tend to be easier to install than water-based setups, where you'll need to allow space for the pipework to be installed without too great a height build-up. If you're planning to do it yourself, electric is definitely the way to go.
5. Electric bathroom heaters
Electric bathroom heaters come in three forms – as panels, column radiators and towel rails, such as this Brenton Apollo design by Only Radiators (opens in new tab). Rather than feed into your central heating system, these plug-and-play options only require a standard socket to power the heater. In other words, where you can get electricity you can get heat.
Of course, if you are using them in a bathroom, you will need to adhere to IP safety ratings in terms of how far the plug socket is from potential 'wet' areas, so it's imperative to get the advice of a registered electrician before installation.
Electric heaters have the advantage that they can be turned on and off at will. This makes then cheaper to run as there's no long wait for them to warm up, and means you can still warm your towels through without having to run the heating all day – a boon in summer.
'For the best of both worlds, we would recommend looking at a dual fuel option when it comes to bathroom heating,' says Nick Duggan. 'Many towel radiators are available with an optional electric heating element, which will ensure you have warm and dry towels even when your central heating is turned off in the summer.'
Which is better, underfloor heating or a bathroom radiator?
According to Nick Duggan at The Radiator Centre, 'there is little difference in the costs to install either underfloor heating or standard radiators'. As we've mentioned, however, running costs can be up to 25% cheaper for UFH.
'Once your UFH heating is installed, if it goes wrong it can cause significant upheaval with floors, etc,' Nick warns. 'It may even prove too problematic to fix. Radiators are more easily accessible to change, upgrade and fix, in the unlikely situation of something going wrong.'
'With UFH you tend to find that you will have your heating on almost all the time during the winter, albeit running at a lower temperature for the vast majority of the time. This is so the floor does not have time to cool down and then lead to longer heat up times when you want it. Depending on the type of radiator, these will be coming on at a time when you know they will be up to temperature, when you need them, say 45 minutes before you come in from work.'
However, there are more plus sides to UFH – the biggest being it frees up essential wall space, which could be crucial in a smaller bathroom. And it will be more efficient in heating a larger space, where multiple radiators might be required.
In conclusion, in a modern, well-insulated home, underfloor heating has the edge. In an older, draughtier house, radiators are likely to give off more heat and will therefore be effective, which shows how insulation has an important part to play.
How can I make my bathroom warmer without additional heating?
'The only way to make any heating system energy efficient is to improve the heat retention of the room using double glazing, cavity wall and roof insulation, chimney cushions, etc,' says Nick Duggan. 'Otherwise, regardless of whether you have underfloor heating or radiators, you will be losing heating and, importantly, money.'
'If a room is cold we would argue it's better to invest in some of these measures first, before getting bigger radiators or UFH.'
You can also consider the materials you use – for example, vinyl will feel warmer underfoot than ceramic or porcelain tiles, and fabric bathroom window treatments with thermal linings are preferable to window shutters or, say metal or wooden blinds.
Editor-in-Chief, Homes Audience
Amy Cutmore is Editor-in-Chief, Audience, across Future's Homes portfolio. A homes and interiors journalist of 20 years standing, she has spent much of that time writing about technology, appliances and kitchens. While other people count how many countries they've visited, Amy tots up how many countries' washing machine factories she's toured (it's eight by the way, from South Korea to Slovenia). She can't leave the house without a decent pair of noise-cancelling headphones, and is always ready to explain an acronym – be it QLED, DAB or HDMI.