Bathroom countertop materials: the pros, cons and differences explained
From marble to wood, we investigate the benefits and downfalls of bathroom countertop materials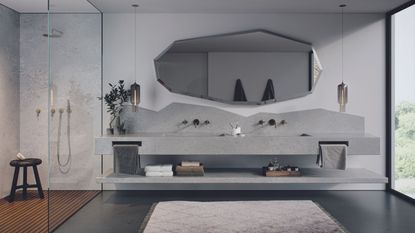 (Image credit: Caesarstone )
Just like their counterparts in the kitchen, bathroom countertop materials need to be able to withstand regular drenchings. And while they may not have put up with scratches from knives, they will need to be tough enough to handle everything from makeup to nail varnish remover spills.
Thankfully there is a broad selection of bathroom countertop materials to choose from, to suit a wide range of looks and budgets. This expert-led advice will help you indulge your bathroom countertop ideas knowing all the benefits and pitfalls of your chosen material.
Below, we bring you the lowdown on the most common surfaces designed to blend elegant visual appeal with performance and practicality.
Bathroom countertop materials explained
From wood to marble, these are the best-looking countertop materials to consider.
Real stone – $$$
All surfaces in a bathroom need to be practical as well as pleasing – and this is especially true of countertops, which are likely to be splashed with water, not to mention toothpaste, soap and more.
Pros
Real stone, from granite to marble will give you a luxe look that is unique to your space.
Marble bathroom ideas are perhaps the most common ways to use real stone as a bathroom countertop, with its light colors and elegant veining perfect for making a small bathroom look bigger, brighter and beautifully designed.
'Marble is perhaps the ultimate luxe ingredient in a bathroom,' says interior designer Samantha Todhunter (opens in new tab). 'Bold or pared back, depending on your choice of stone, it is an instant elevator.'
Other choices include granite, which is incredibly durable; soapstone, which is non-porous, and therefore an excellent choice; and tough slate.
Cons
However, natural stones, and especially marble, which is more porous than many others, will usually be supplied sealed and require on-going maintenance and care to keep them looking their best. Some feel that the odd mark adds to its natural beauty and patina, but if this is likely to worry you, a manmade surface may be preferable.
Natural stone also tends to be more expensive than other bathroom countertop materials.
Quartz – $$$
This manmade stone is made from about 90% quartz mixed with resin to produce a strong, resilient and water-resistant material.
Pros
'Perfect for wet areas such as basin countertops and backsplashes, quartz is non-absorbent, non-porous and extremely easy to clean,' says Jonathan Stanley, VP of marketing at Caesarstone (opens in new tab).
It is also now available in a wide variety of designs and colors, including a host of marble, natural stone and concrete-effects, designed to offer the beauty of the real thing combined with high performance characteristics.
Cons
Quartz, like real stone, is at the expensive end of the bathroom countertop material market.
Solid surfaces – $$ to $$$
Concrete as a bathroom countertop material is ideal if you want durability and a contemporary look.
Pros
Concrete looks beautiful, is incredibly strong and can come in a range of colors and finishes, from highly polished to flecked with pieces of glass.
Cons
Concrete countertops are expensive, and, when damaged are incredibly difficult, if not impossible, to repair.
Solid surfaces – $$
Another manmade material, solid surface is a smooth, non-porous material, typically made from acrylic resin mixed with natural minerals.
Pros
It is a solid material that cannot delaminate and slabs can be joined together inconspicuously to create a virtually seamless look, and thermoformed into flowing, streamlined shapes that can integrate the basin into the countertop (as above).
Acquabella (opens in new tab)'s Dolotek is one such material, as product manager Fernando Maceda explains. 'It can be moulded into complex, precise and original shapes to produce basin countertops with subtle design features,' he says. 'The surface is also antibacterial, easy to clean, soft to touch and with a strength that belies its pure look.'
Stain-repellant, solid surface can also be repaired with careful sanding.
Cons
Solid surface isn't heat-resistant, so unlike real stone and quartz, could mark if exposed to heat.
Wood – $$
Choosing wood for a bathroom vanity isn't about picking a practical bathroom countertop material – it's more about looks.
Pros
'Wood works well in a bathroom setting, as it adds a sense of warmth, nature and tactility,' advises Yousef Mansuri, director of design at C.P. Hart (opens in new tab). 'However, in the wet environment of a bathroom, it is important that any wood elements are correctly protected to ensure they look beautiful in years to come.'
Cons
Most real wood vanity units and countertops are pre-treated with an oil or varnish, as they are intended for bathroom use, but further sealing may be required in the future. If you prefer a low-maintenance option, a wood-effect countertop may be a better choice, offering the look of timber without the need for sealants.
'This can offer more flexibility and durability, but doesn't always have the same natural, organic qualities of the real deal,' he adds.
Tile
Rethink the tile countertop ideas your parents might have had: the new generation of porcelain and ultra-compact materials are made in striking marble and stone effects, using new production processes.
Pros
They are typically fused under pressure to create dense surfaces that are well suited for use as bathroom countertops, as well as for flooring and wall cladding.
Simon Boocock, managing director of CRL Stone (opens in new tab), which offers Inalco MDi, says, 'Ultra compact surfaces are perfect for the humid and wet bathroom environment, since they are non-porous, hygienic and easy to clean – in fact, stress-free surfaces that really look the part.'
As well as mimicking real stone, porcelain tile is more affordable than solid surface or stone slabs and give you a DIY fitting option. Plus, the vast range of color and finish options, not to mention shapes, allow you to introduce character to a small space.
Cons
Ceramic tile can break or crack, so choose porcelain which is much tougher. Grout will discolor quickly, so choose a dark grout or learn how to clean grout thoroughly and be resigned to doing so regularly.
Laminate – $
Laminate is an incredibly budget-friendly choice for a bathroom countertop material. However, it should be seen as a quick or budget fix; if you are looking for a durable, quality product that future house buyers will love, laminate is not it.
Pros
Cheap, and available in a wide range of colors and looks that mimic other bathroom countertop materials.
Cons
Seen as a cheap fix by most homeowners, laminate isn't durable or good-looking enough for a primary bathroom if you can afford better.
What is the best material for a bathroom vanity?
'I have had many bathroom vanities in the bathrooms I've renovated over the years,' advises Lucy Searle, Homes & Gardens' Editor in Chief. 'And, without doubt, the best material was the quartz. I chose a material that mimicked marble, but there was no headache with upkeep or damage – the quartz is absolutely worth the investment.'
What is better for a bathroom – quartz or granite?
Quartz is thought by bathroom design experts to be better than granite. This is because quartz is water-proof and incredibly low maintenance, while granite, while durable and beautiful, will need to be resealed and maintained carefully to maintain its looks.
Amelia Thorpe is a specialist interiors and design journalist, covering every topic to do with homes from fabrics, furniture and lighting to surfaces, kitchens and bathrooms.
As the daughter of an antique dealer and a lifelong collector of old cookery books and vintage graphics herself, she also has a particular expertise in antiques, mid-century and decorative arts of all kinds.
Drawn to homes because of their importance in the happiness of our lives and the enjoyment they can bring, Amelia has been writing about the topic for more than fifteen years. She has interviewed some of the most influential designers of our time, from Piero Lissoni, Antonio Citterio, Jaime Hayon and Arik Levy to Nina Campbell and Robert Kime.