How we test – about Homes & Gardens reviews
Our product-testing process, explained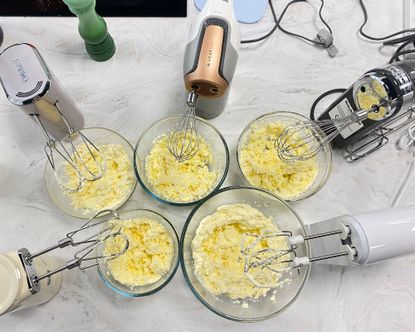 (Image credit: Future/Molly Cleary)
Homes & Gardens is committed to giving you the best product buying advice possible. This is why when you read our reviews, you can be assured that everything we feature has undergone a rigorous testing process.
The products we review are tested in person, over a period of at least two weeks, though often longer.
While some of our tests could be described as more scientific, on the whole we like to put the products through their paces against the trials of daily life. We test them in the home to help our readers decide whether they will suit you and if they are worth your investment.
We will never take payment for a review. Do note that sometimes we are allowed to keep the products we review, giving us a chance to add to our reviews over time. This way, you know you are getting great quality and value for months, and even years to come.
If you are a brand and would like your products reviewed, get in touch with the team at homesecommerce@futurenet.com (opens in new tab)
The testing process
The tests we undertake will vary depending on the type of product, but we cover all of the following in our reviews:
What are our first impressions of the product and what do you get in the box?
What is the product like to use? (We put the product to the test against most common uses and try every feature)
What special features does the product have?
How easy is it to clean, store and maintain the product?
How does it rate online?
How does the product compare to its competitors?
Should you buy it?
Oftentimes we are allowed to keep the product we reviewed, meaning we can speak to its durability and update our review over time.
How do we test small appliances?
Each small appliance is tested against the most common use situations. For example, each blender will be used to make a smoothie and each hand mixer will whip cream. We try to use the same recipes to keep the test fair.
We also test any additional features the product has and look at how easy it is to clean. Can it be put in a dishwasher? Will it require lots of extra effort to keep it looking its best?
How do we test mattresses?
When we test a mattress we make sure the reviewer has slept on it for a minimum of two weeks, but usually a month or longer. They will take into account the overall comfort and support of the mattress, plus how it rates on edge support, spine alignment, breathability, and motion transfer. We'll often place a weight in the center and at the edge of the mattress to display how much 'sinkage' the mattress has.
Our reviewers detail the ease (or hassle) of delivery and setup, warranty and return policies, as well as its construction and materials.
As we understand the impact of sleep positions and the subjective nature of mattress testing, we ask our reviewers to be open about their sleep habits and preferences. This means you can relate your own needs to those of our reviewers when choosing a mattress.
How do we test grills?
There are lots of different types of grill, so we make sure we test it in the setup for which it was designed. Portable grills will get packed up and use in various locations and a large six burner gas grill will be used to help host a family gathering.
However, we make sure each grill is tested on its basic cooking abilities too, by grilling the most common barbecued foods such as hot dogs, burgers, a larger joint of meat and veggies. Finally, our tester will see how easy it is to clean the grill and what aftercare it might require.
How do we test vacuum cleaners?
When we review vacuum cleaners, we test in a home that best suits their design. A pet vacuum will be tested on animal fur and a handheld vac will be used for smaller areas and cars.
As well as testing each vaccum for its particulars, we run a series of standard tests for all. They are used on various flooring types they are suited to and given the 'Pantry Test'. This is where we see how well they can suck up large and small particles on the carpet and hard flooring. To do this, the tester vacuums up a quarter cup of cereal, a quarter cup of rice, and a tablespoon of sugar and judges how easy each was to vacuum up.
About our buying guides
Our buying guides are compiled using information from our product reviews. We aim to have first hand experience of everything we feature, but in some cases our buying guides will be amalgamated using reviews from different people with different needs to give you the most rounded view. If we do not have a standalone review for the product on this site, we may have tested it on one of our sister brands.
Some products are not suited to standalone reviews, so in these cases we will do a mini review within the buying guide.
Our aim is to only feature products where we have first-hand experience. However, in some instances (such as with certain furniture and home décor) we may not have reviewed the product in full – in these cases we will only recommend brands that we have had a positive experience with. The team writing these reviews and buying guides have earned consumer advisor status in several product areas, meaning they know what materials, features and companies to look for when suggesting a buy.
About our product badges
Top rated products get a Homes & Gardens Tried & Trusted badge. This means we have tested them for ourselves, and given it four or more stars out of five. The products that have been awarded this most prestigious of titles will show a Gold or Silver version of the badge on buying guides and their reviews
Brands cannot pay to be granted these badges, but we do offer them the chance to license the badge to use on their own marketing material. This is always offered after the review has been written and our writers will not be influenced or paid for a good rating.
Our writers and reviewers
Meet our team of ecommerce editors, shopping writers and freelance reviewers.
Lindsey made her first foray into writing about homes 10 years ago when she joined the Homebuilding & Renovating team as web editor. In 2020 she became Editor in Chief of ecommerce for the Future Homes portfolio, looking after product content with her team and she also serves as Editor of Realhomes.com. She lives in a small Victorian cottage in the UK so is always looking for space-savvy products that don't look out of place in a period home. She has a long (but narrow) backyard so tests gardening tools and outdoor cooking accessories, but has tested everything from mattresses to small appliances, too.
Annie is Deputy Ecommerce Editor at Future Homes, and with a penchant for shopping and four years of ecommerce experience behind her, it's her job to tell readers what to buy for their home. Her ecommerce experience has inspired countless online purchases across the titles of Ideal Home, Livingetc, Gardeningetc, Real Homes, and Woman & Home. She lives in an apartment in South London and is always on the lookout for high-quality homewares to refresh her space. Her specialism is home fragrance and fitness.
Amy gained an appreciation and understanding of color, form, and composition in the design studio, creating surface patterns for the interiors industry. Here she developed a deeper knowledge of key design principles and gained understanding of how spaces and materials can influence our sense of wellbeing. After completing her own house renovation, including far too much time spent deliberating over the exact shade of white paint, and several years working within the interiors industry, she now writes for Homes & Gardens, Livingetc, Ideal Home and Gardeningetc covering all things furniture and decor.
Caroline has worked on Homes & Gardens with the ecommerce team since the start of 2021, bringing her background in technology and enthusiasm for interior design with her. She loves helping people see the benefits of incorporating smart devices into the home without compromising on style and puts this to action producing reviews and buying guides on everything from smart speakers to video doorbells.
Jaclyn officially joined the Homes & Gardens team in January 2021 to manage buying guide content in the US, keeping tabs on what's new and amazing, and trying those products out too to make recommendations. Currently, she oversees shopping content about sleep, including mattresses and bedding. As a savvy, price-conscious shopper, she always focuses on both quality and value, with a discerning approach. She previously worked on the commerce teams with Apartment Therapy, The Kitchn, The Spruce, The Spruce Eats, and MyDomaine, covering everything from major sales to new product launches.
Jennifer is our resident Large Appliance Editor. She joined the ecommerce team in 2020 after working as a product writer for leading British brand John Lewis & Partners. When she is not bringing the best in-class vacuums and washing machines to your attention, Jennifer can be found going for walks in the Somerset countryside with her husband and daughter, or enjoying some tea and cake with a magazine.
With prior PR experience working for a luxury bedding brand, Louise is a sleep specialist, but also curates shopping content for homeware items that'll add a decorative touch to your space. Holding a BA in Fine Art, Louise's artistic flair has injected her interior style with a love for classic colors and patterns. Whilst she currently lives in a rented East London flat, she longs for a home with a separate space she could call her studio. She joined the team in April 2022.
Millie has been writing for Homes & Gardens since the beginning of 2021, covering all things product-related before specialising in small appliances. A lover of al fresco dining, she is always on the hunt for the best barbecues and pizza ovens for entertaining friends and family. When the weather turns, she brings her love of cooking inside and puts the latest blenders, food processors and kitchen helpers to the test for you.
Molly is Ecommerce Writer for the Future Homes brands and spends her time searching the internet for the next best thing for your home. With previous experience within the Home section of TopTenReviews, another Future site, writing about everything from ride-on lawnmowers to robot hoovers, she has knowledge of all of those niche areas of your home and garden that you might need a new purchase for. Aside from shopping and buying content, which is now her biggest area of focus, she also has plenty of experience with putting together features brimming with beautiful home ideas and writing deals posts so that readers can get the best possible price.
Kaitlin joined the Homes & Gardens team in February 2022 after working on Realhomes.com for two years and as Editor in Chief. She has written about interiors for more than ten years for various brands including Architectural Digest and Martha Stewart Living and in her time she has tested everything from mattresses to homewares. Kaitlin has a keen eye for design and lives in Connecticut with her husband, two sons, daughter and a black labrador.
Alex Temblador is a Mixed Latinx award-winning author and freelance writer based in Dallas, Texas. She is perfectly placed for testing all things outdoor living and reviews grills, hot tubs and garden tools for us. Her work in the home space has appeared in outlets like Real Homes, Dwell, Architectural Digest, Culture Trip, Neighborhoods.com, among many others.
Alexandra is a freelance writer and former journalist with a shopping addiction that rivals Carrie Bradshaw's. But while Carrie mainly deals in clothes, Alexandra battles with an obsession with how to efficiently keep a home clean and organized. Alexandra studied Journalism at the University of Maryland and is pursuing her Master's in Public Relations and Corporate Communications at New York University. She previously worked at Fox News as an assignment editor in the DC Bureau.